Preparing for the Unimaginable: Challenges for Business and Government
If a disaster were to strike today, would your business, government agency or organization be prepared?
That's a question that we think about quite a bit here at the CDC Foundation, and it's an issue where our Centers for Disease Control and Prevention (CDC) colleagues spend a lot of time. It's also a topic that's on the minds of CDC's public health partners.
For instance, Trust for America's Health (TFAH) and the Robert Wood Johnson Foundation (RWJF) last month released their 10th annual review of America's public health preparedness report, which examines readiness at the state and federal levels of government.
Generally, the report indicates that preparedness is much improved when compared to a decade ago. However, the report also highlights a number of persistent gaps in the country's ability to respond to health emergencies, ranging from bioterrorist threats to serious disease outbreaks to extreme weather events. For example, the report describes that state and local health departments have cut more than 45,000 jobs since 2008, 13 state public health laboratories do not have sufficient capacity to work five 12-hour days for six to eight weeks in response to a disease outbreak, and 35 states do not have complete climate change adaptation plans.
Beyond government, preparedness is critical to individual businesses and to the overall health of the U.S. economy. To add to this discussion, I recently joined with Dr. Ali Khan, director of CDC's Office of Public Health Preparedness and Response at an event focused on business and government readiness sponsored by the World Affairs Council of Atlanta. The event, held in early December, was titled, "Preparing for the Unimaginable: Global Health Security and Business."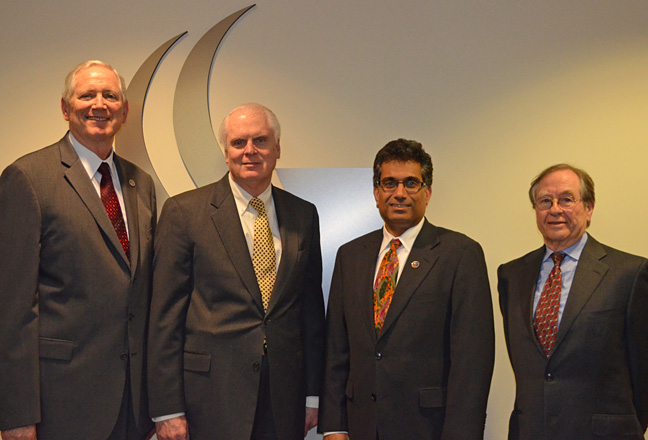 Dr. Khan led off the discussion by detailing some of the ways we're more prepared as a nation today versus 10 years ago. For instance, the United States now has a Strategic National Stockpile of medicine and medical supplies, a Health Alert Network for communicating with public and private medical practitioners, and a response network of 150 labs throughout the country that use consistent testing and communications protocols when addressing public health emergencies.
However, Dr. Khan also described how our country is at even greater risk today, particularly when it comes to emerging infectious diseases. That's because the drivers of disease, including population changes, urbanization, and climate changes, are only becoming more pronounced. We're all facing greater risks today, and the odds are stacked against businesses.
As Dr. Khan pointed out, up to 40 percent of businesses affected by a natural or human-caused disaster never reopen, according to the Insurance Information Institute. This fact stresses the importance of businesses being prepared to weather the effects of a disaster. To help in this regard, Dr. Khan described some of CDC's programs that aid with business continuity and support the preparedness and response efforts of state and local communities that have a frontline role in protecting individuals and businesses.
At the event, Dr. Khan and I highlighted what we believe is one of the greatest challenges currently facing readiness efforts: the significant reduction in federal dollars going to state and local government frontline preparedness and response efforts. This fact was also called out in the report released by TFAH and RWJF.
In my view, this challenge cannot be managed by the government alone in today's fiscally challenged environment. Today, government needs support through partnerships – in funding, in resources and expertise.
In the past, government agencies were often reluctant to partner with businesses. The argument was that businesses, which must focus on profit, should not closely interact with governments, which are there to protect the public's good. However, it has become increasingly clear that governments can't afford to go it alone. Businesses are also invested in the communities in which they operate and have a real interest in ensuring that they can get their work done following a disaster.
So what's the solution? In my view, it's partnerships – plain and simple – that can be established with necessary controls in place to protect the interests of both the public and business.
In the 1970s, 80s and 90s, government had the good fortune of being able to pay for just about everything it needed to do. Government could go to its corner, and business could focus on profit-making, without the need to talk much. Those days are over. Today, we have to be talking.
Featured in photo above (L-R): Charles Stokes, CDC Foundation; Wayne Lord, Ph.D., President, World Affairs Council of Atlanta; Ali S. Khan (RET), MD, MPH, Director, Office of Public Health Preparedness and Response, CDC; Cedric L. Suzman, D.B.A., Executive Vice President and Director of Programming, World Affairs Council of Atlanta.
---
---