The Power of Technology in West Africa
This blog is first in a series featuring examples of how the CDC Foundation through the generous support of donors to its Global Disaster Response Fund is assisting CDC by meeting critical needs in the fight against Ebola.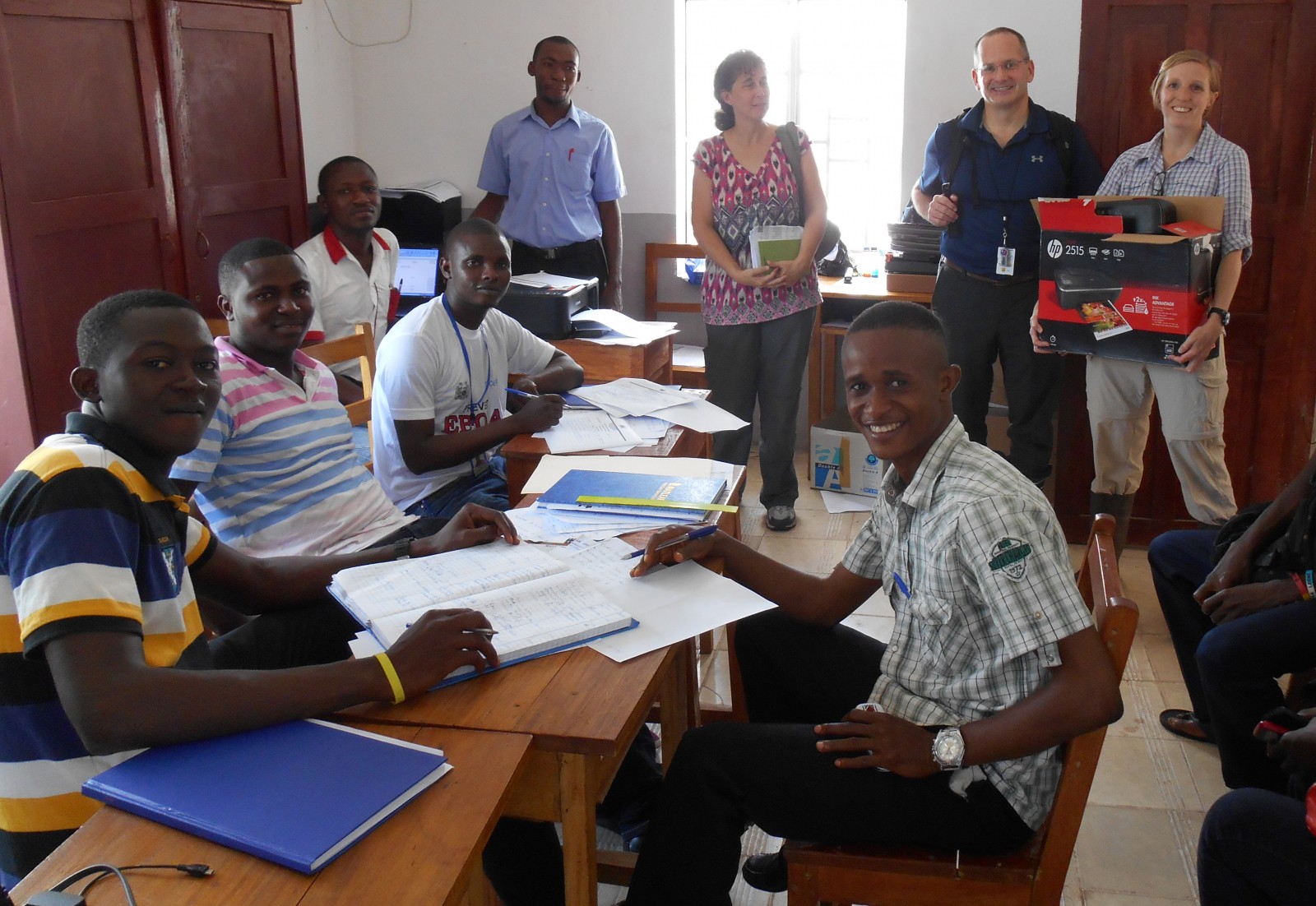 Photo of Makeni, Bombali, District Medical Officer Ebola surveillance office connected to Internet by CDC Foundation support. Picture shows Epidemic Intelligence Officer Dr. Bridgette Gleason bringing in a printer procured by CDC Foundation.
Technology is an essential part of our daily lives. We are an interconnected world. Not only does technology boost information sharing, it has the power to save lives.
However, there are disparities in access to technology in areas of the world like West Africa, where the unprecedented Ebola epidemic has raged this year. The limited access to technology and internet connectivity there have been major issues, particularly in many remote areas of Guinea, Liberia and Sierra Leone, and more recently in Mali. This situation presented a serious challenge for those working on the response efforts.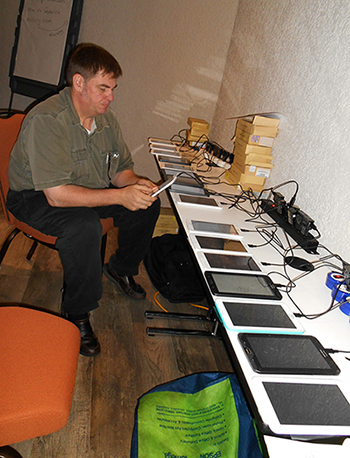 Today, the U.S. Centers for Disease Control and Prevention (CDC) has more than 170 staff on the ground in West Africa, supported by hundreds more public health emergency response experts in Atlanta. The need for everyone, including those working with CDC's public health partners in West Africa, to stay connected and share information is vitally important. The availability of medical and diagnostic technology is also a crucial need for the healthcare professionals and volunteers on the ground. The CDC Foundation is working diligently to meet these needs. 
"Having timely, accurate data is essential in any epidemic response," said Kevin DeCock, M.D., Liberia field team lead for CDC. "In this response, county health officers not only have to travel to villages that can only be reached by foot, they also have to travel hours to reach the nearest Internet connection. Those challenges have contributed to gaps and delays in data reporting that have impaired our ability to respond as rapidly and accurately as we would like."
Through donations to the Global Disaster Response Fund, the CDC Foundation has been able to purchase equipment representing multiple technology platforms to address needs on the ground in West Africa. These are being used by CDC staff to enhance the ability to get and send critical information rapidly. Some examples of the technologies provided include: 
Six PCR (polymerase chain reaction) machines and specialized reagents, used to more rapidly detect the presence or absence of the Ebola virus in patient samples;
More than 500 laptop computers being used to enable the exchange, collection and capture of information and data;
More than 135 electronic tablets for use to conduct surveys, and for contact tracing and burial teams in Liberia for epidemiological data capture;
Internet access provision for many locations;
Servers to enable data entry by multiple individuals;
More than 200 printers, as well as handheld scanners to share documents and more than 50 projectors for community education;
Cell phones and communications radios to facilitate communication among staff and healthcare workers; and
Thermal scanners for use by airport screeners in West Africa.
"CDC Foundation funding has brought eHealth Africa to Liberia. Their team is rapidly bringing portable, innovative technological solutions to even the remote counties in Liberia," according to DeCock. "The work being done today is strengthening data transfer during this response and also strengthening the infrastructure for the future."
A stable source of electricity has also been a challenge for the CDC teams working with in-country staff. The CDC Foundation, through donor contributions, purchased generators to power entire offices and gasoline to run them on a continuous basis to meet this need. 
"A comprehensive response effort for the Ebola epidemic would simply not be possible without the integration of effective technologies," said Charles Stokes, president and CEO of the CDC Foundation. "We are so grateful to our donors for stepping up to support this response. Lives are being saved."
---
---
---