Paul G. Allen Family Foundation Contributes $9M to Ebola Response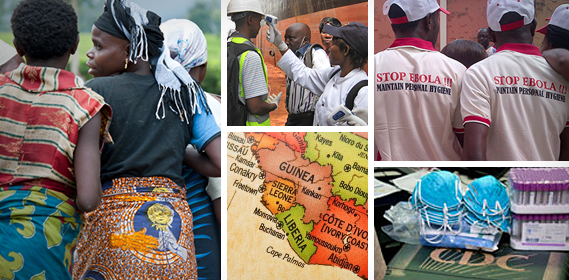 Yesterday, we announced a transformational $9 million grant from the Paul G. Allen Family Foundation. This generous grant will directly support Ebola response needs by helping CDC establish emergency operations centers (EOCs) in Guinea, Liberia and Sierra Leone. CDC identified the implementation of EOCs as a top priority in controlling the Ebola outbreak and helping to prepare these countries for future public health emergencies.
The suspected number of people infected by the largest Ebola outbreak in history rose to 3,700 this week, while the death toll has climbed to more than 1,800. Since July, approximately 500 CDC staff members and public health experts have provided invaluable support, domestically and internationally, to manage this unprecedented outbreak. Tasked with response efforts ranging from disease contact tracing to health education, CDC has worked tirelessly in an effort to help these countries gain control of Ebola.
CDC Director Dr. Tom Frieden described the current challenges as well as hope for arresting the Ebola outbreak. "Ebola is raging through parts of West Africa like an out-of-control forest fire but it can be controlled if the world comes together. The donation from the Paul G. Allen Family Foundation helps meet a critical need as emergency operations centers are vital to coordinating the response to stop this epidemic and to prevent other ones in the future." In addition, Paul Allen provided his perspective on the Ebola epidemic in a post on his Foundation's site.
I'd like to express the CDC Foundation's sincere gratitude to the Paul G. Allen Family Foundation for its gift to our Global Disaster Response Fund, which supports CDC's 24-7 life-saving work during this Ebola epidemic. Importantly, this gift provides both speed and flexibility to advance the response efforts. As the needs in West Africa continue to grow, I hope you will consider advancing CDC's mission to end this Ebola outbreak by giving today.
---
---
---