Q&A with New CDC Foundation Board Member Raymond Baxter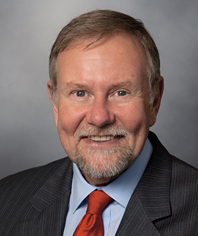 Raymond J. Baxter, Ph.D., has been elected to the CDC Foundation board of directors. Ray is Kaiser Permanente's senior vice president for community benefit, research and health policy. As a member of Kaiser Permanente's national leadership team, Ray leads the organization's activities to fulfill its social mission, including care and coverage for low-income people, community health initiatives, health equity, environmental stewardship and support for community-based organizations.
What inspired you to get involved with the CDC Foundation?
For decades, I have admired the many contributions of the Centers for Disease Control and Prevention (CDC) to advance public health in the United States and around the world. Since 1995, the CDC Foundation has been a critical support to the CDC, enabling CDC to "do more, faster."
When Kaiser Permanente searched for a way to help in the aftermath of Hurricane Katrina, we found the CDC Foundation. Kaiser Permanente was concerned that the people who rely on the public health system—those in vulnerable populations—would be overlooked. The CDC Foundation turned out to be the perfect lifeline of support to the people of the Gulf Coast. Together, we were able to get our resources to those in need, literally within hours. Partnering with them showed me what a special role it plays. I wanted to help the Foundation continue to build that role in advancing CDC's work. The Hurricane Katrina partnership was a prototype of what can be achieved via public-private partnerships.
What makes the CDC Foundation different from some of your other board commitments/civic activities?
For over 40 years, I've been a health activist around mental health, long-term care, health systems reform, and public health. I've had the privilege of working with a number of distinguished CDC directors in the course of my career. Serving as a board member to the CDC Foundation allows me to bring my entire scope of professional experiences to the table to support CDC and to stay close to all the critical work CDC does.
Why are you so passionate about improving the health of communities?
The health of communities is a matter of social justice that literally affects everyone's health and quality of life. That's true locally, nationally, and globally. It's about equity. Health is essential to development. And ironically the escalating cost of health care is eating up scarce resources needed for economic development, education, and housing—the social determinants of health. So improving the health of communities is pivotal in the global agenda.
How does your current job as Kaiser Permanente's senior vice president for community benefit, research and health policy fit into your mission of improving public health?
The Kaiser Permanente mission is to provide high-quality, affordable health care services, and to improve the health of our members and the communities we serve. Kaiser Permanente's community benefit work and the work of our many regional, national, and community-based partners is to employ our financial, technical, and clinical knowledge and resources to enable our members and our communities to realize their aspirations for total health—the health of the mind, body, and spirit. This means addressing health needs at every level, from individuals and families to homes, schools, worksites, neighborhoods, and the broader society.
Kaiser Permanente has been an active corporate partner for many health-related issues. Why are public-private partnerships important?
Government can't do everything, nor can the private or social sectors alone. We need public-private partnerships to make substantive improvements in the health of a community's population by changing the environment around it, and to increase the community's capacity to sustain those health improvements over time.
For the Weight of the Nation documentary series and public health campaign, Kaiser Permanente proudly partnered with HBO (Home Box Office), the Institute of Medicine, Centers for Disease Control and Prevention, National Institutes of Health and the Michael & Susan Dell Foundation to tackle this most urgent and critical public health crisis. The campaign presented a unique opportunity to spotlight the severity of the obesity epidemic, to showcase strategies that work and, most importantly, to catalyze action to end obesity.
What do you like to do for fun?
I love the outdoors—walking, hiking, and biking. I love the West, especially Montana and Idaho and New Mexico. I also love fly fishing—but only fishing—I never catch! It's very Zen.
By Raymond Baxter, Kaiser Permanente's senior vice president for community benefit, research and health policy, as told to Amy Tolchinsky, communications manager for the CDC Foundation.
---
---