Looking for Solutions When Your Worst Fears Are Confirmed
This is the third blog post from a CDC Foundation trip to West Africa. On this trip, Charlie Stokes, president and CEO of the CDC Foundation, and two team members are looking at the Ebola response work funded through the CDC Foundation by private sector donors.
Sometimes things just don't add up. James Bangura who was working on a Lassa Fever project in Sierra Leone confronted such a moment last April.
"Our team was called to Koindu in the Kailahun District about three deaths—an older woman who was a healer, her husband and grandchild," Bangura said. "During our investigation talking with some in the local community, we were told that that these individuals died because they were looking inside of a box that no one was supposed to look into. People believed that witchcraft killed them."
But Bangura and his team knew about Ebola cases in neighboring Guinea and had been on the lookout for potential cases in Sierra Leone. Based on the symptoms, he knew it was a strong possibility that these deaths were caused by Ebola. While the bodies were not exhumed for testing, it is quite likely that these were the first Ebola deaths in the country during the outbreak. Since then, of course the outbreak turned into an epidemic. Today Ebola infections in Sierra Leone have topped 10,000 with more than 3,000 deaths.
The first officially confirmed Ebola infections in Sierra Leone took place in late May, confirming Bangura's fear that Ebola was indeed in the country. After this confirmation, there soon were reports of 14 additional cases as the outbreak moved into other villages. But there was reluctance from some citizens to accept the presence of Ebola. In one instance, the people in one village chased out Bangura's team of investigators by throwing rocks at them.
"Many people in these communities insisted that the individuals were dying from cholera, which hits a peak in May," according to Bangura. "Many of the symptoms—diarrhea, vomiting and fever—are the same." In retrospect, Bangura said, "in my country, we underestimated the magnitude of the disease. Acceptance of the arrival of the disease was slow. People didn't believe it."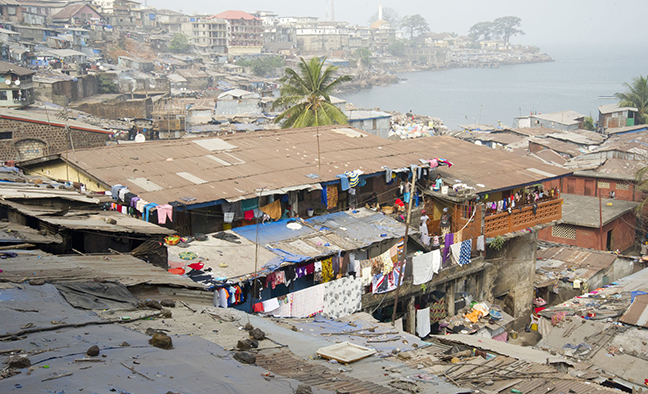 But times have changed. Bangura says that work by Sierra Leone's government and international governments and nonprofits have made a tremendous difference. "The availability of labs, holding centers and more resources, both funding and personnel, are successes in how the response has evolved. We were not able to previously operate at a full-scale, and now we are."
Ebola has proven difficult to beat back. In recent months, the Western Area around Sierra Leone's capital of Freetown has been a hotspot in the battle. And today a push that began in mid December is in full swing to win control over the disease. Among a myriad of activities, this push involves active disease surveillance, case finding and social mobilization efforts to engage communities to help in the response.
CDC staff, now more than 80 strong in Sierra Leone, have been working hand-in-hand with the country's ministry of health and international governments and organizations, and the CDC Foundation's partners have provided valuable donations that have been able to fill funding gaps. For instance, the funding provided for the so called Western surge has included paying incentives to volunteer staff involved in the surge, computers and equipment, speeding the transfer of lab samples, training community monitors, surveillance officers and contact tracer supervisors.
Yesterday, we saw firsthand the work of Sierra Leone's surveillance team in action in the Susan's Bay section of Freetown, an area that includes a large marketplace and multitudes of homes stacked very closely together near the port. Today, Bangura and his team are hard at work there, tracking down cases and ensuring that measures are in place to protect the community.
These efforts are now showing results, as the number of infections has begun to decrease. The road ahead could be long, but there now is momentum for stopping Ebola in Sierra Leone.

---
Also, on Thursday, the CDC Foundation's team had the opportunity to meet Sierra Leone head of state, Ernest Bai Koroma, in Freetown and discuss how the CDC Foundation is working with CDC to deploy donor funding to meet priorities identified by CDC as the agency works with a variety of stakeholders in the country. President Koroma thanked donors for their generous gifts that are helping his country beat back the Ebola epidemic.
Photos: ©David Snyder/CDC Foundation
---
---
---