International Day of the Girl: Every Hour Matters
As the fifth annual International Day of the Girl Child approaches on October 11, Together for Girls is shining a light on our recently-launched Every Hour Matters campaign, which focuses on ensuring that those who suffer rape do not also have to experience HIV, unintended pregnancy or long-term mental health issues.
Speed is of the essence for post-rape care. While it is never too late to receive mental health support and care, survivors have 72 hours to receive life-saving medication to prevent HIV and 120 hours to receive emergency contraception. Rapid access to care is also important because medical help for physical trauma may be urgently needed depending on the situation.
Findings from Violence Against Children Surveys conducted by the Centers for Disease Control and Prevention (CDC), in collaboration with Together for Girls country partners, show that more than half of girls' incidents of unwanted sex in childhood occurred before the age of 16 and first sexual intercourse for one in four girls in Sub-Saharan Africa was forced or coerced. Furthermore, the surveys show that less than 5 percent of girls and boys who experienced sexual violence ever obtained services to help them recover.
Although the CDC Foundation isn't participating directly in the Every Hour Matters campaign, we are grateful for our ongoing partnership with both the CDC Foundation and CDC. And we are proud that, working through leading partners in national governments, service delivery networks, advocacy and civil society groups, our Every Hour Matters campaign will put essential information about sexual violence and post-rape care in the hands of policymakers and the public. The campaign will also train at least 600 individuals, including youth advocates and professionals from the health sector and crisis hotlines throughout Sub-Saharan Africa, on the topic.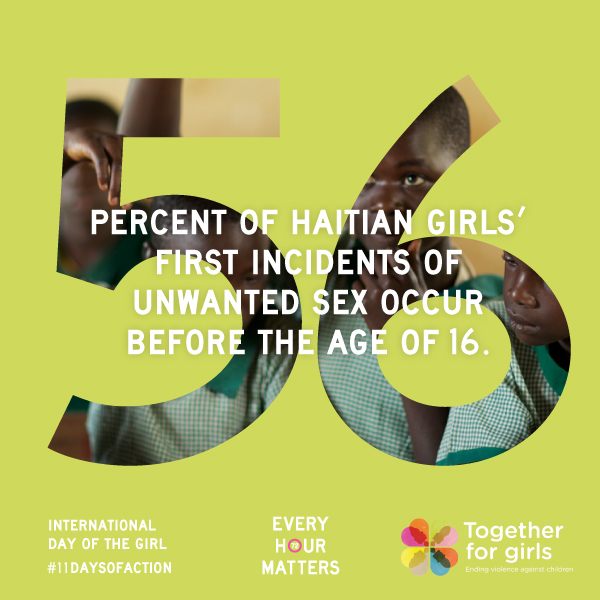 Hundreds of millions of people—including many children—are subjected to sexual violence, yet very few survivors ever tell anyone about the experience or access health services or mental health support to help them heal. Many do not understand the importance of these services or the fact that, after a rape, every hour matters in preventing potentially lifelong health problems. This is an unacceptable reality we must all work together to change.
Together for Girls is a global public-private partnership that brings together the world's preeminent public health and development agencies, including the United Nations, governments and the private sector, in a shared commitment to end violence against children, with a particular focus on sexual violence and girls. With data that now measures the experiences of an estimated 11 percent of the world's population under the age of 25, the partnership provides evidence and leadership driving both national action and global advocacy for violence prevention and response.
As the world joins together on October 11 to ensure a world free of discrimination for young women and girls, Together for Girls and partners urge everyone to help spread the word about the importance of post-rape care. To learn more, and to share the campaign, visit Every Hour Matters.
---
---
---