Go Kits, Tents Bring Relief in Wake of Haiti's Earthquake
This story was gathered from David Snyder's visit to Haiti. David reports on CDC programs in action for the CDC Foundation.
Like everyone who survived Haiti's massive earthquake, Marie Michelle Paris has a story to tell. A CDC staff member working out of the U.S. Embassy in Port-au-Prince, Paris had just left work that day when the earth began to shake.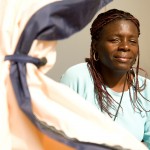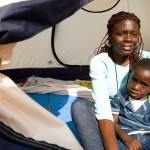 "I had left the office and passed my son's school so we were in the street when it happened," Paris says. "I thought it was the end of the world."
She was not alone. The earthquake killed as many as 230,000 Haitians, and left more than 1.1 million more displaced. Fear gripped the city in the days that followed, and as many foreigners fled Haiti for the safety of their home countries, Haitians like Paris sought help where they could find it as aid agencies around the world began to mobilize. For Paris, much needed support came from the CDC Foundation, which provided emergency "go kits" to Haitian public health workers as they dealt with their own personal tragedies. The kits, purchased through the CDC Foundation's Global Disaster Response Fund, included critical supplies that made a real difference for Paris and her family.
"In the kit they sent to us we found a flashlight and some batteries," Paris says. "There was powdered juice, baby wipes and diapers."
In a darkened city, with many people sleeping outside for fear of another quake, the kits provided a measure of deep comfort, Paris says. Within weeks, the CDC Foundation also provided tents, which for Paris, her husband and young son, proved to be a turning point after the trauma of the earthquake.
"The supplies we received were very helpful," Paris says. "Now I can sleep well. Since I received a tent that closes I can sleep even when it rains."
After just a few days, Paris returned to work with the Embassy, and soon rejoined CDC as it geared up for widespread surveillance and response efforts.
"Now when I am working I am busy," Paris says, "And that helps to take the bad memories away."
Five weeks after the quake, Paris and her family were still sleeping outside, sharing their home with 20 family members who lost their own homes – all of them still afraid to sleep indoors. Asked what she would say to those who contributed to the CDC Foundation's Global Disaster Response Fund, she pauses for only a moment before answering.
"I would first say thank you, because they just contributed to help people," Paris says. "If others contribute, they can help people who face things like we faced. I am so thankful."
by David Snyder
---
PROGRAM SNAPSHOT
Global Disaster Response Fund Purpose:
Through our Global Disaster Response Fund, the CDC Foundation is helping fill the gaps as CDC works with in-country officials to rebuild public health infrastructure in Haiti. The fund helped address immediate needs like tarps, tents and handheld computers. Efforts are now focused on public health facilities, equipment and training opportunities. Make a Gift to support public health rebuilding efforts in Haiti.
Funding Partner:
multiple individuals and organizations
Program Partners:
CDC's Office of Public Health Preparedness and Response
CDC's Center for Global Health
CDC Principal Investigator:
John Moore, Ph.D., R.N.
CDC Foundation's Role:
he CDC Foundation's Global Disaster Response Fund provides immediate, flexible resources to CDC experts addressing public health emergencies around the world - whether natural disasters, emerging diseases, or manmade biological threats. Following the earthquake in Haiti, CDC teams wanted to help their Haitian colleagues and their families, many of whom were sleeping outdoors without shelter. As a federal agency, however, CDC could not quickly and easily purchase temporary shelters and supplies for local public health workers and their families. CDC was able to use resources from the Foundation's Global Disaster Response Fund to fill the gap.
---
---