On the Frontlines of Disaster in New Orleans
Spent the last few days in New Orleans with the CDC Foundation. They were hosting a Meta-Leadership Summit there – the 20th of 36 Summits scheduled before the end of 2011. The irony of hosting the Summit in New Orleans right now is that Louisiana is dealing with the effects of the Gulf oil spill.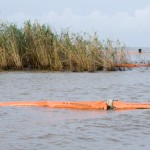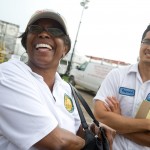 Many of the leaders we spoke with this week, from Jim Kelly, co-president and CEO of Catholic Charities Archdiocese of New Orleans, to Rear Admiral Mary Landry, commander of the Eighth Coast Guard District, are dealing directly with the aftermath of the oil spill. If there is a bright spot at all along the state's coast, it's that many of those involved are disaster veterans, having had this experience before with Katrina. They know who to call, what's needed most, and how to get things done – which is exactly the type of leaders that the Meta-Leadership Summits are designed to cultivate.
All week we met with fascinating people, most of whom had direct experience in dealing with Hurricane Katrina. But leadership is difficult to illustrate with a camera. Even getting pictures of the oil spill response was largely impossible, as BP is controlling all access to the sites where the oil cleanup is taking place.
Still, the stories we heard were amazing. One day we toured the Lower 9th Ward with Avis Gray, regional administrator for the Louisiana Office of Public Health in New Orleans. As a nurse she was literally on the front lines, working to evacuate people from the Superdome in the days after the levees broke. A native of New Orleans she knows the city backwards and forwards. Hearing her describe the scenes that unfolded around the stadium in the weeks after Katrina was unforgettable.
We also spoke with Kay Wilkins, CEO of the American Red Cross Southeast Louisiana chapter. I liked her immediately, and her passion for the Red Cross is evident. She spoke of the people who worked there as her heroes, and welled up at the thoughts of the work they did in the long months after Katrina. My favorite quote from her on how to stay sane and functional during a nightmare like Katrina: "Always have one crazy idea a day. And find ways to laugh."
But my favorite words of the week came from Darryl Eymard, a commercial fisherman who took us out into the marshes around Venice, LA, one day to see the effects of the oil spill for ourselves. Well into his 60s, he wants oil drilling to continue for the employment it provides. Yet he's frustrated, like everyone, at the slow response from BP and the federal government.
"They can put a Tonka toy on the moon and play with it for a week," Eymard says in that wonderfully slow southern drawl. "But they can't fix this."
---
---