Finding Space: Quake Shatters Haiti's Fragile Public Health System
This story was gathered from David Snyder's visit to Haiti. David reports on CDC programs in action for the CDC Foundation.
The earthquake that rocked Haiti on January 12 left much of Haiti's capital in ruins. Among the buildings damaged in Port-au-Prince were those of Haiti's Ministry of Health (MoH), leaving Haiti's already delicate healthcare infrastructure in tatters at a time when tens of thousands were left injured and hundreds of thousands crowded into unsanitary camps. Dr. Roc Magloire, director of Epidemiology, Laboratory and Research, Ministry of Health, knows all too well what impact the quake had on Haiti's ravaged public health system.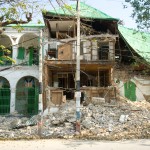 With many MoH buildings down, his public health staff was displaced in the weeks after the quake. Having lost one office to the quake and the other to the Minister of Health, Magloire and a handful of his 17 staff moved into the National Laboratory of Public Health – a building they shared with CDC staff who were deployed to Haiti. Although he has an office, Dr. Magloire is challenged to coordinate epidemiological responses to the quake with staff based in different locations, and the few who are crowded into makeshift offices at the lab facility.
"We don't have enough space," Magloire says. "We need space for statisticians, and even for our administrative staff."
With fears of disease outbreaks high, Magloire says sanitation is one of the biggest worries he faces today. More than 300 camps have sprung up across the city, where the beginning of the rainy season leaves standing water in muddy pools, a perfect breeding ground for mosquitoes and disease.
"The earthquake complicated the situation because people are migrating from place to place," Magloire says. "And the sanitation problem is a concern because a lot of people are living close together."
As the public health response unfolds, Magloire is doing all he can from his cramped office. Boxes line one wall of the facility. A small work space with several computers serves his staff as needed. Plans for the future, which included a dedicated building for his staff, have been put on hold.
"The first necessity is to have a place to work," Magloire says. "We need to try to do what we can right now. Then we can think about how to rebuild. It will be difficult for us."
In response to the earthquake, CDC staff members arrived in Haiti to help set up a disease surveillance network. As part of that response, some of Magloire's lab staff have been trained to better detect and respond to diseases such as dengue, malaria, cholera and dysentery that are expected to arise as long as the camps stay full. While the training has been helpful, Magloire says that chronic under-funding and understaffing still pose major challenges to his team's ability to respond to Haiti's urgent public health needs.
"If someone wanted to help Haiti, they could do so by increasing our capacity to let us do our jobs better," Magloire says.
---
PROGRAM SNAPSHOT
Global Disaster Response Fund Purpose:
Through our Global Disaster Response Fund, the CDC Foundation is helping fill the gaps as CDC works with in-country officials to rebuild public health infrastructure in Haiti. The fund helped address immediate needs like tarps, tents and handheld computers. Efforts are now focused on public health facilities, equipment and training opportunities. Make a Gift to support public health rebuilding efforts in Haiti.
Funding Partner:
multiple individuals and organizations
Program Partners:
CDC's Office of Public Health Preparedness and Response
CDC's Center for Global Health
CDC Principal Investigator:
John Moore, Ph.D., R.N.
CDC Foundation's Role:
The CDC Foundation's Global Disaster Response Fund provides immediate, flexible resources to CDC experts addressing public health emergencies around the world - whether natural disasters, emerging diseases, or manmade biological threats. Following the earthquake in Haiti, CDC teams wanted to help their Haitian colleagues and their families, many of whom were sleeping outdoors without shelter. As a federal agency, however, CDC could not quickly and easily purchase temporary shelters and supplies for local public health workers and their families. CDC was able to use resources from the Foundation's Global Disaster Response Fund to fill the gap.
---
---
---