Dedicating Emergency Operations Centers in West Africa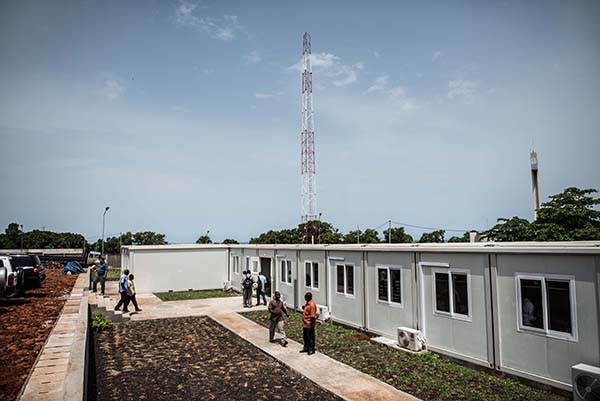 At the peak of the Ebola epidemic in West Africa during the summer of 2014, the U.S. Centers for Disease Control and Prevention (CDC) and officials from Guinea, Liberia and Sierra Leone identified the need for public health emergency management systems and physical emergency operations centers (EOCs) to coordinate Ebola response activities. During a public health emergency like Ebola, EOCs serve as command centers that bring all response functions together in one location. More specifically, the EOCs and incident management systems established for the Ebola response enabled better coordination of national activities, faster decision-making and data sharing among public health experts and emergency response partners.
The Paul G. Allen Ebola Program donated $12.9 million to fund temporary and permanent EOCs in all three countries. Donor support was also used to hire and train EOC staff, develop custom and integrated data management tools for surveillance and contact tracing, and provide furnishings, generators, equipment and supplies.
Other donors provided funding to meet additional needs in support of the EOCs. In Liberia, the Bill & Melinda Gates Foundation and other donors provided funding through the CDC Foundation to implement a strategy to extend and support the Ebola incident management work by establishing 15 county-level EOCs. Facebook Founder and CEO Mark Zuckerberg and his wife, Dr. Priscilla Chan, funded a second floor in the Liberia EOC through their donor-advised fund at the Silicon Valley Community Foundation. This floor contains space for training public health workers and space for professional staff, including technical and response teams.
Representatives of the governments of Guinea, Liberia and Sierra Leone as well as officials from the U.S. government, CDC, the CDC Foundation and the Paul G. Allen Ebola Program are participating in dedication ceremonies in Conakry, Guinea; Monrovia, Liberia; and Freetown, Sierra Leone, with the first ceremony today in Guinea. I will be attending the ceremonies in Liberia and Sierra Leone next week, and I am looking forward to seeing this funding in action. Together, working with CDC, our donors and the people of West Africa, we are winning the war with Ebola. The CDC Foundation extends its sincere gratitude to each of our partners for their support.
Photo credit: Tommy Trenchard
---
---
---