The Days After: CDC Staff Recounts Life Post-Quake in Haiti
Along the tree dotted street of Rue Malval, the brown metal gate leading to the small yard of James Henry Colin is blocked now by the rubble of what used to be his home. Once three stories tall, his home pancaked when a 7.0 earthquake struck Haiti on January 12, 2010 – a day he and everyone who survived it will long remember.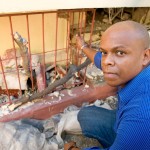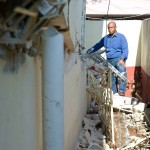 "I was coming from work and stopped to buy a gift for a friend of mine," Colin says. "Otherwise I would have been here."
At first unsure what had happened, the scale of the disaster began to dawn on Colin as he approached his neighborhood. Unable to reach his wife, Colin says he neared panic as traffic kept him from reaching his house.
"I left the car and I was running," Colin says. "As I got closer to home I was more scared."
Colin, the Chief Administrative Specialist for the CDC in Haiti, had reason to be scared. Along Rue Malval, most of the homes were damaged or destroyed by the quake. Though his wife, two young children and mother in law were on the third floor when the quake struck, they survived almost miraculously, Colin says, with no real injuries. That night, they and tens of thousands of other Haitians slept in the open streets unsure what to do and still terrified by the many aftershocks.
"My family was looking to me. I wasn't panicked on the outside, but on the inside I didn't know what to do," Colin says. "We just slept on the street and my family used my backpack as a pillow."
Because they are American citizens, Colin was able to evacuate his two children to the United States in the days after the quake. His wife went with them, and with the burden of their care lifted, Colin says, he turned his attention to helping others, working at the US consulate helping as he could until the CDC offices reopened days after the quake.
"It was better being at work than at home," Colin says. "It was better to be helping the country than sitting home and thinking about friends who had died."
And while he and the 37 other CDC staff in Haiti did what they could to help, they themselves were also in need. Several had lost their homes, and most were now living with extended family or friends, often sleeping in the open at night. It was then that CDC Foundation provided relief kits and tents through the Global Emergency Response Fund. The kits, which contained flashlights, batteries, coffee, sugar and other essentials, could not have come at a better time, Colin says.
"It was perfect because we had nothing," Colin says. "Then we got the tent and it was really helpful."
Living now with an uncle and several other family members, Colin says he is still uncertain what he will do. With the shock of the devastation still evident everywhere in Haiti, Colin and thousands of others like him are grappling with the scale of the disaster, and weighing options for the future.
Having received another distribution of emergency items weeks after the quake, Colin says the support provided by the CDC Foundation has had an impact far beyond the physical comfort provided by the agency.
"When you really are lost and you find out there is support like this from the CDC Foundation, it's like something coming from heaven," Colin says. "You feel like you are not just a number. It makes you feel good."
By David Snyder
---
PROGRAM SNAPSHOT
Global Disaster Response Fund Purpose:
Through our Global Disaster Response Fund, the CDC Foundation is helping fill the gaps as CDC works with in-country officials to rebuild public health infrastructure in Haiti. The fund helped address immediate needs like tarps, tents and handheld computers. Efforts are now focused on public health facilities, equipment and training opportunities. Make a Gift to support public health rebuilding efforts in Haiti.
Funding Partner:
multiple individuals and organizations
Program Partners:
CDC's Office of Public Health Preparedness and Response
CDC's Center for Global Health
CDC Principal Investigator:
John Moore, Ph.D., R.N.
CDC Foundation's Role:
The CDC Foundation's Global Disaster Response Fund provides immediate, flexible resources to CDC experts addressing public health emergencies around the world - whether natural disasters, emerging diseases, or manmade biological threats. Following the earthquake in Haiti, CDC teams wanted to help their Haitian colleagues and their families, many of whom were sleeping outdoors without shelter. As a federal agency, however, CDC could not quickly and easily purchase temporary shelters and supplies for local public health workers and their families. CDC was able to use resources from the Foundation's Global Disaster Response Fund to fill the gap.
---
---
---