A Day in the Field: CDC Expert Leads Team in Haiti
This story was gathered from David Snyder's visit to Haiti. David reports on CDC programs in action for the CDC Foundation.
The cluttered corner of a cafeteria seems an unlikely office from which to coordinate health surveillance for a city of millions. But for Dr. Kay Tomashek, Surveillance Coordinator for a CDC surveillance and response team in Port-au-Prince, it is as good a place as any to start another 19-hour day in Haiti.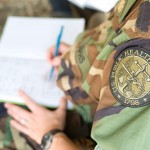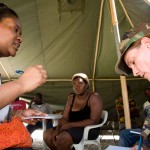 When Tomashek arrived in Haiti on January 28, just 16 days after a massive 7.0 earthquake struck the country, rescuers were still searching for victims amid the rubble. More than 1.1 million people were displaced by the disaster, most of them living in makeshift camps that sprang up around the city. Coordinating a team of CDC epidemiologists, microbiologists and epidemic intelligence officers, Tomashek and her team had a long list of things to do to help prevent a major outbreak of disease.
"One of our projects was to improve and standardize reporting in the recently implemented hospital sentinel surveillance system at 51 hospitals in the Port-au-Prince area," Tomashek says. "Our task was to determine why some hospitals weren't reporting and to improve the timeliness of reporting."
In their assessments, Tomashek and her team discovered that many of the surveillance officers were torn between doing surveillance and actually assisting injured patients directly, as thousands streamed into surveillance sites with a wide range of injuries.
Working from the National Laboratory of Public Health, which survived the earthquake intact, Tomashek began each day with a team meeting, so each staff member could coordinate the day's activities. Amid the hectic pace of emergency work and faced with difficulties just getting around the congested and quake-damaged city, Tomashek and her team members worked through the chaos to head off any potential outbreaks in the more than 300 camps for internally displaced people (IDP) around the city.
"We started receiving reports of suspected typhoid, bacterial dysentery and other infectious diseases among those residing in IPD camps, and we realized early on that we needed to conduct surveillance in the IDP camps in collaboration with the [non-governmental organization] clinics," Tomashek says. "We needed a baseline incidence of typhoid so we could determine when to investigate. It was not sustainable to go out and investigate every case."
One step in that surveillance was to prepare the National Laboratory to receive and process samples from the camps, where medical staff from various aid agencies were working directly with patients each day.
"We helped them assess their inventory and develop a specimen collection form and a protocol for specimen receiving," Tomashek says. "The first step was just getting healthcare providers informed about the National Laboratory's newly developed capacity in the field, and then training them how to collect specimens from patients so they could submit samples for testing."
Tomashek and her team also assessed the 21 camps identified as priorities and met with doctors, nurses and other medical staff working for various aid agencies in the camps. The team provided training as well as testing and sample collection supplies to help put that net in place where any outbreak would first appear – in the crowded and unsanitary camps.
A CDC epidemiologist since 1997, Tomashek understands well the role the agency can play in a disaster zone like Haiti. Living in nearby Puerto Rico, where she serves as the acting branch chief for the Dengue Branch of CDC, Tomashek says she enjoys the process of setting up a system that can benefit so many people in the end.
"We're hopeful that we can monitor diseases with the new surveillance system and detect increases in cases earlier enough to mitigate an outbreak," Tomashek says. "We're basically disease detectives looking for opportunities to intervene and prevent outbreaks."
Assertive, efficient and passionate about her work, Tomashek's days in Haiti are long, often ending in the early hours of the morning before snatching a few hours of sleep in a tent. Aftershocks still shook the city for weeks after the quake, serving as a frequent reminder of what the people of Haiti had gone through and what challenges remained as camps continued to fill. Tomashek says she felt a unique draw to help out in the wake of the disaster.
"I felt like there was a lot that could be done in Haiti to assist the Ministry of Health staff, many of whom were affected themselves, and I was committed to assisting the Ministry of Health to get systems in place as soon as possible so that we could better monitor diseases here," Tomashek says. "It's a challenge for all of us to work and live here, and I like the challenge."
---
PROGRAM SNAPSHOT
Global Disaster Response Fund Purpose:
Through our Global Disaster Response Fund, the CDC Foundation is helping fill the gaps as CDC works with in-country officials to rebuild public health infrastructure in Haiti. The fund helped address immediate needs like tarps, tents and handheld computers. Efforts are now focused on public health facilities, equipment and training opportunities. Make a Gift to support public health rebuilding efforts in Haiti.
Funding Partner:
multiple individuals and organizations
Program Partners:
CDC's Office of Public Health Preparedness and Response CDC's Center for Global Health
CDC Principal Investigator:
John Moore, Ph.D., R.N.
CDC Foundation's Role:
The CDC Foundation's Global Disaster Response Fund provides immediate, flexible resources to CDC experts addressing public health emergencies around the world - whether natural disasters, emerging diseases, or manmade biological threats. Following the earthquake in Haiti, CDC teams wanted to help their Haitian colleagues and their families, many of whom were sleeping outdoors without shelter. As a federal agency, however, CDC could not quickly and easily purchase temporary shelters and supplies for local public health workers and their families. CDC was able to use resources from the Foundation's Global Disaster Response Fund to fill the gap.
---
---
---