Grant Provides Vital Support to Tackling Cervical Cancer
Throughout the world there are many illnesses and diseases that could be termed critical public health issues. One of these is the burden of cervical cancer, a disease that afflicts more than half a million women globally each year. Today, I'm pleased to announce that the Bill & Melinda Gates Foundation is providing a $3.6 million grant to support an effort to establish standards and boost information systems for treatment of cervical cancer in low- and middle-income countries, where the burden of cervical cancer is particularly severe.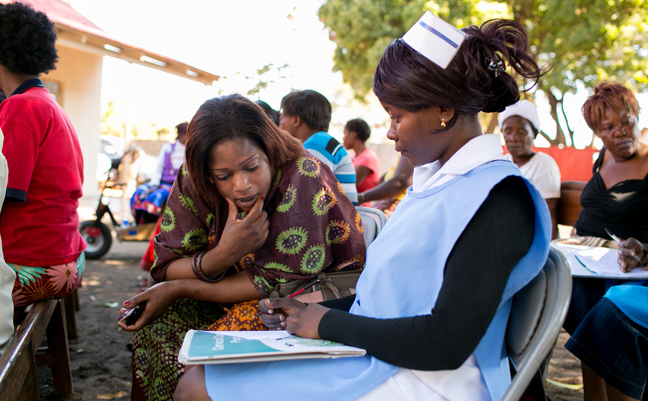 The grant, managed by the CDC Foundation, will enable the George W. Bush Institute, the U.S. Centers for Disease Control and Prevention and the World Health Organization to work with the Pink Ribbon Red Ribbon® initiative to improve the monitoring and evaluation of cervical cancer screening and treatment programs. Pink Ribbon Red Ribbon leverages the U.S. President's Emergency Plan for AIDS Relief (PEPFAR), created under President George W. Bush in 2003, to integrate cervical cancer prevention—including increased access to human papillomavirus (HPV) vaccinations, cervical cancer screenings and treatment, as well as cancer education in sub-Saharan Africa and Latin America.
The disproportionate burden of cervical cancer is highest in countries where effective screening, diagnosis, and treatment is limited or absent. In several Western countries, where screening programs that have been linked to effective treatment have long been established, cervical cancer rates have decreased by as much as 65 percent.
There are two primary activities that will be conducted as part of the two-year grant from the Bill & Melinda Gates Foundation. The first is the conduct of rapid baseline situational assessments with reports and strategic consultations with countries to process the results and develop recommendations for improved monitoring and evaluation of cervical cancer. The second is the development of global standards, tools and guidance for surveillance and information systems for cervical cancer.
We know that central to advancing public health is not only defining and monitoring a problem but also strengthening the data and tools to address it. The CDC Foundation is pleased to work with the global partners for this effort that will help improve the lives of women in low- and middle-income countries.
Photo: Health worker explains cervical cancer screening process, Mosi-Oa-Tunya Clinic, Livingstone, Zambia, June 2013.
Paul Morse for The George W. Bush Presidential Center.
---
---
---