CDC Mountin Lecture Features Michael R. Bloomberg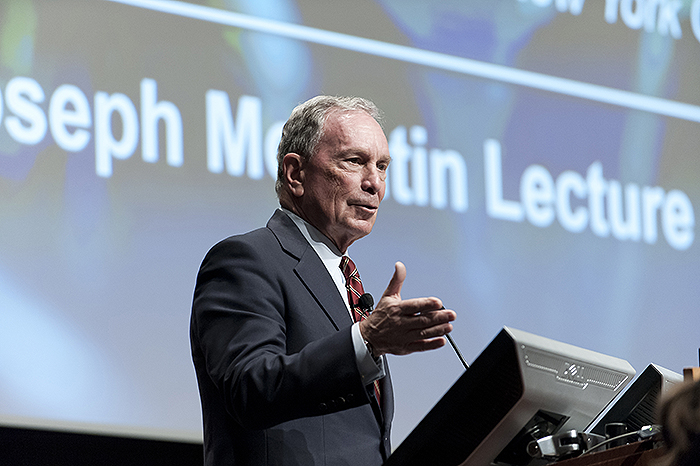 When entrepreneur, philanthropist and former New York City Mayor Michael R. Bloomberg took the stage at the 36th annual Joseph W. Mountin Lecture at the Centers for Disease Control and Prevention (CDC) recently, he shared his thoughts about how to ensure better, longer lives for the greatest number of people, with a focus on a data-driven approach and teamwork.
Bloomberg applauded CDC employees for their dedication to improving the public's health on a national and global scale. From the CDC Foundation's perspective, we are especially honored to partner with Bloomberg Philanthropies on several major initiatives highlighted at the lecture: Data for Health and the Bloomberg Initiative to Reduce Tobacco Use.
As Bloomberg noted, Data for Health aims to help 1.2 billion people in 20 low- and middle-income countries across Africa, Asia and Latin America live healthier, longer lives. The CDC Foundation, with CDC, is proud to be one of the key global partners in this initiative, as we work to help improve the collection and use of health data in six countries—and potentially four more over the span of the four-year effort—to address pressing health challenges.
Bloomberg also shared that tobacco use represents the world's leading cause of preventable death and disease, killing 6 million people each year. Did you know, for instance, that one-third of the world's smokers live in China? Despite statistics like these, Bloomberg cited progress. For example, he noted that Beijing—one of the largest cities in the world—in 2015 went smoke-free in all indoor public places. In fact, cigarette sales in China fell by 2.4 percent between 2014 and 2015, as a result of higher costs, smoking bans and greater health awareness.
The CDC Foundation is pleased to be among the partners in the Bloomberg Initiative to Reduce Tobacco Use, which enables experts at CDC and the World Health Organization to evaluate tobacco control interventions and measure tobacco control progress in low- and middle-income countries where the tobacco use burden is particularly heavy.
It was validating to hear Bloomberg's assessment about the critical importance of government and philanthropy working together to address health threats. Every day at the CDC Foundation we strive to bring people together, whether they come from government agencies, businesses or philanthropies, emphasizing how we can do far more working together than any of us can do alone. We all have a role to play in making our world safer and healthier.
---
---
---