CDC Microbiologist Spends Long Days Training Staff in Haiti
This story was gathered from David Snyder's visit to Haiti. David reports on CDC programs in action for the CDC Foundation.
As he spent the first few weeks after the earthquake helping to set up a disease surveillance system in the quake-ravaged city of Port-au-Prince, microbiologist Michael Humphrys experienced scenarios he probably never anticipated when he joined CDC as an Orise Microbiology Fellow in 2008.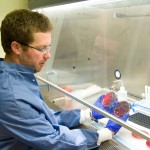 "We came down to assess the Ministry's capacity for lab work," Humphrys says. "To see what they had, what was damaged and what was needed."
Though that sounds simple, Humphrys soon discovered that the day-to-day realities of surveillance in Haiti were extremely complex. With more than 200,000 survivors living in tent cities, the risk of adequate sanitation posed a major health risk – a risk that would become worse during the rainy season. Humphrys spent many hours getting critically needed sample collection and testing supplies to medical personnel working in more than 300 camps across Port-au-Prince. Once there, he also helped train healthcare workers to use the sampling equipment, including a rapid test that can detect malaria in just 20 minutes.
In the midst of training and equipping medical teams in a city where a trip to a single camp could take a day amid snarled city traffic, Humphrys also worked closely with Ministry of Health (MoH) personnel, continuing the training efforts of a CDC team that arrived before him.
"I worked with the MoH lab to prepare staff for the types of diseases we would expect to be seeing," Humphrys says. "You work in the hypothetical. You say, 'If you saw this, what would you do?' Then you teach the technical components."
Faced with a long list of potential public health threats – from malaria and dengue to typhoid and leptospirosis – Humphrys focused the MoH training on traditional microbiology. Even after rapid testing, there is a need to follow up on any positive samples with diagnostics that can only be performed in a lab. Haiti's public health system was fragile before the quake, with only two microbiology labs in the country, including the National Laboratory of Public Health. Humphrys notes that the lab limitations in no way reflected the staff's expertise."
"You never know what to expect. Sometimes you have to start from square one," Humphrys says. "But here, the lab staff was really well trained and competent. The problems were just in getting samples, not in any technical shortfalls."
With each day presenting new challenges – one patient sampled for typhoid died before she could be treated – Humphrys says it was difficult to measure long-term success in so complex an environment. The key, he says, is to focus on small and more manageable tasks while keeping the larger picture in mind to avoid getting overwhelmed.
"It's a pretty daunting task," Humphrys says. "Really it's very incremental and you make small steps daily. That's how it goes."
Though he has conducted trainings in such places as Guatemala, Malawi and Thailand, Humphrys describes his experience in the aftermath of the Haitian earthquake as unique. Days were long, tiring and sometimes frustrating. But working in Haiti as a staff microbiologist has inspired Humphrys to continue his challenging assignments with CDC.
"You come down and you work, work, work, but it's really interesting," Humphrys says. "It's not easy, but it's rewarding."
Watch Video - Michael Humphrys
---
PROGRAM SNAPSHOT
Global Disaster Response Fund Purpose:
Through our Global Disaster Response Fund, the CDC Foundation is helping fill the gaps as CDC works with in-country officials to rebuild public health infrastructure in Haiti. The fund helped address immediate needs like tarps, tents and handheld computers. Efforts are now focused on public health facilities, equipment and training opportunities. Make a Gift to support public health rebuilding efforts in Haiti.
Funding Partner:
multiple individuals and organizations
Program Partners:
CDC's Office of Public Health Preparedness and Response CDC's Center for Global Health
CDC Principal Investigator:
John Moore, Ph.D., R.N.
CDC Foundation's Role:
The CDC Foundation's Global Disaster Response Fund provides immediate, flexible resources to CDC experts addressing public health emergencies around the world - whether natural disasters, emerging diseases, or manmade biological threats. Following the earthquake in Haiti, CDC teams wanted to help their Haitian colleagues and their families, many of whom were sleeping outdoors without shelter. As a federal agency, however, CDC could not quickly and easily purchase temporary shelters and supplies for local public health workers and their families. CDC was able to use resources from the Foundation's Global Disaster Response Fund to fill the gap.
---
---
---