CDC Lab is Small, but Important Outpost in Ebola War
This is the seventh blog post from a CDC Foundation trip to West Africa in January. On this trip, Charlie Stokes, president and CEO of the CDC Foundation, and two team members were looking at the Ebola response work funded through the CDC Foundation by private sector donors.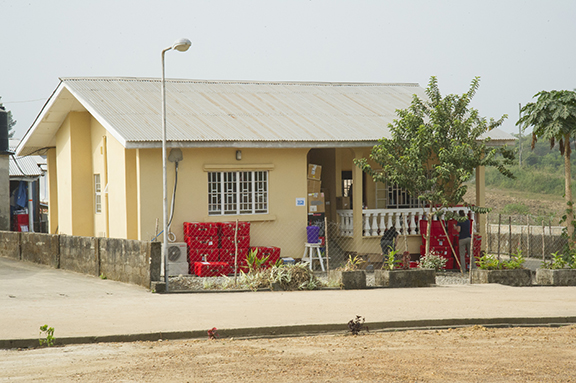 With its yellow walls and simple tin roof, the U.S. Centers for Disease Control and Prevention (CDC) lab in Bo, Sierra Leone, would be easy to overlook. Although there are no indications that this tiny lab sits squarely on the front lines in the fight against Ebola, it is vital to efforts to turn back the epidemic in Sierra Leone.
Tasked with testing the samples brought to the lab from seven of Sierra Leone's 15 districts, Bobbie Rae Erickson and Shelley Campbell, both CDC microbiologists, and their CDC colleagues understand better than anyone the enormity of the epidemic.
Since the Ebola outbreak started in West Africa in mid-2014, more than 9,200 people have died from the virus, 3,350 of them in Sierra Leone alone. In all, more than 22,900 people have been infected since the outbreak began, forcing governments to close schools and launch national awareness campaigns to halt the spread of the virus. Testing an average of 86 blood and swab samples each day, Erickson says that speed is critical.
"To be able to get the results out faster means you can move patients much faster," Erickson said. "You can start the contact tracing much faster as well, and get patients into treatment."
To aid in that mission, the CDC Foundation stepped in to provide much needed lab equipment and supplies. By utilizing more than $50 million in funding provided by donors, the CDC Foundation continues to play a critical role in helping CDC respond quickly and flexibly to the Ebola outbreak. Funding for lab equipment and supplies came primarily from a Robert Wood Johnson Foundation grant.
"One way the (CDC) Foundation has helped is with machinery that allows us to process faster and with more numbers," Erickson said. "The robots we use are able to process between 15-90 samples in 20 minutes, saving valuable time and allowing for high sample loads and overall results in 6 to 12 hours." Since August, the lab in Bo has conducted diagnostics on more than 11,000 samples.
With samples arriving daily, and still others flown in three times per week by helicopter, the small CDC lab in Bo works well into each night to meet the demand. So infectious is the Ebola virus that lab staff spray the packaging and paperwork of all samples received with a disinfectant solution before handling them. They don full personal protective equipment to test the actual samples in a small, well-ventilated facility behind the lab itself. Because working in the confines of the lab can be physically isolating, Campbell says, you need to stay focused on the bigger picture of saving lives while processing the samples each day.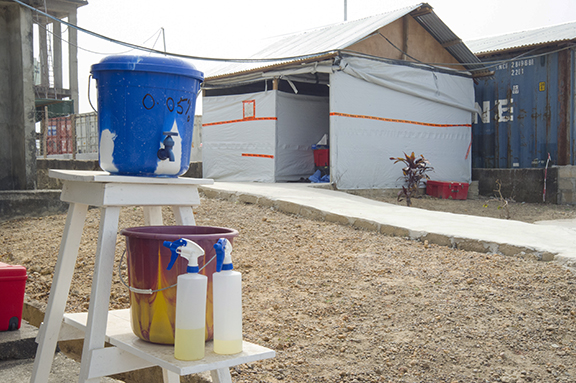 The lab is located in a large compound for Doctors Without Borders, known by their French acronym of MSF. Patients sometimes arrive at the site, a human reminder that the ongoing epidemic is often close at hand. Campbell recalls a particularly heartbreaking case that put a face for her on the Ebola crisis.
"We had an 11-year-old girl dropped off at the gate," Campbell said. "The MSF workers had to stay six feet away from her, so just watching her walk in alone from the gate was very hard. She died that night."
Despite such tragedies, the tide is turning. In large part thanks to the efforts of CDC, which has supported the response of the ministries of health in Sierra Leone, Guinea and Liberia primarily, the spread of the virus has slowed. Still, there are fears that such a decrease may lead to complacency, which could open a door for resurgence if attention and care to the epidemic is not taken.
On their second deployment to West Africa in recent months, Campbell and Erickson know well the long-term needs that exist in a country like Sierra Leone, which has limited health infrastructure to deal with the epidemic going forward. Addressing that need is now the top priority, while still continuing to fight the virus.
Photos: ©David Snyder/CDC Foundation
---
---
---