CDC Foundation Photo Contest Winner - Audrey Mitchell
Congrats, Audrey Mitchell, winner of the CDC Foundation photo contest!
The winning photo, Sunrise in the Philippines, was taken by Audrey Mitchell while on a Stop Transmission of Polio (STOP) assignment in the Philippines. "We were taking a banka, a traditional Filipino boat, early in the morning. Our captain stood out on the bow as we pushed away from the shore."
"This photo beautifully captures both the morning stillness and the hopefulness of a journey just begun. The solitary figure of the captain standing as he is at the very bow of the boat, looking out over the water with the sun having just risen, places the viewer nicely into the photo without intruding upon the solitude that makes the photo special." - David Snyder
---
CDCers Learn How to Take Great Photos from Photojournalist David Snyder
Over the last two years, the CDC Foundation has been working with photojournalist David Snyder to take photos and report on CDC programs in action around the world. A small collection of Snyder's photographs were recently featured in an exhibition called Assignment: CDC, Photographs by David Snyder at CDC's Global Health Odyssey Museum. When Snyder was in Atlanta in October 2010 for the opening of the exhibition, the CDC Foundation worked with Snyder to host three small photography training sessions for a limited number of CDC staff and contractors. More than 50 individuals attended the trainings. Overall, the trainings were geared toward helping amateur photographers – often scientists by trade – use their own cameras in the field to tell the story of CDC's work and its impact on local individuals and communities. Topics ranged from effective composition and how to frame your photos, to how to adjust the settings on your camera for higher quality images.
Telling the Story of CDC's Work
After the trainings, the CDC Foundation held an informal photo contest – called "Telling the Story of CDC's Work" – open to the individuals who had participated. Each participant was invited to submit up to three photos. Then all the training participants were invited to vote on their favorite photos through an online poll. Snyder selected the winning photo and five finalists. Training participants picked a favorite through the online poll. The winning photo is highlighted above and the additional finalists are featured below along with Snyder's comments.
More Contest Photos
Photo by Audrey Mitchell - Little Girl Named Em: This photo was also taken while on a Stop Transmission of Polio (STOP) assignment in the Philippines. The vaccination post was set up in an old church. The glass in the windows was gone, but this little girl, named Em, could still peer through the remaining iron frame. "This photo makes the viewer feel as if they themselves are in the room, making eye contact with the shy and furtive little girl in the picture. Regardless of how long she may have spent looking on, you get the sense that this photo captures a brief instant of time, when curiosity drew a young girl to stranger." - David Snyder young girl to stranger." - David Snyder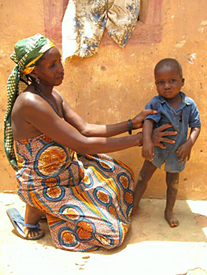 Photo by Stacey Hoffman – Mother and Son: Even though the boy in the photograph has one type of polio, he is vaccinated to protect against other strains of the disease (Katsina, Nigeria). "Despite what appears to be a tricky mid-day sun, the colors carry this photo of a mother and her child. Though posed pictures can at times be stiff and formal, the framing, the texture lent to the photo by the close over the window, and the look on the mother's face combine to make it great portrait shot." - David Snyder
Photo by Ciara O'Reilly – Shoe Leather Epidemiology: This photo was taken during the CDC field team's investigation of a nationwide cholera outbreak in Kenya. The team had to purchase new sandals which were handmade by a CDC Kenya local staff member because the team's footwear had been worn out from trekking around the remote and arid area of Turkana, Kenya, during the cholera investigation. Top Audience Pick: This photo received the most votes on the blog
Photo by Ciara O'Reilly – Community Health Worker with Child: This photo shows a community health worker with her child Jobe. They are from East Pokot in the semi-arid Northern area of Kenya. This area was heavily affected during a nationwide cholera outbreak in Kenya. The woman helped us locate very rural homes in her community that had experienced a death from cholera. "While nicely framed and evenly lit, I think this photo works best for the moment it captures on the face of the young boy. His eyes are sparkling as if he is just about to break into a smile, and that makes it somehow more alluring than if he were in fact grinning." - David Snyder
Photo by Stacey Hoffman – Children Watching a Community Dialogue: From a distance, children watch a community dialogue in Katsina, Nigeria. Community dialogues are held in areas that have rejected polio vaccination to respond to questions and concerns from villagers. After the community dialogue, the men agree to ask their wives to cooperate with the immunization teams. "Group photos can be tough, but this one works well because of the range of expressions on the faces of the children. Ringed as she is by the cautious looks of her friends, the smile of the girl in black ultimately anchors the photo and wins over the viewer." - David Snyder
Photo by Anagha Loharikar– Village Children in Malawi: These are children in a village in Machinga District in Malawi where the CDC team is conducting a baseline evaluation for a safe water and hygiene promotion program. "A classic pose for children throughout the developing world, this photo wonderfully captures the spirit and exuberance of children everywhere. Framed nicely from the same level as the kids themselves, it would be priceless for the mischievous look of the child on the right alone." - David Snyder
---
---
---