CDC and NFL Team Up to Fight the Flu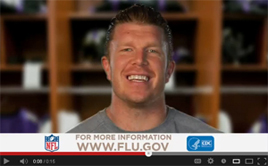 The CDC Foundation supports CDC's 24/7 work to fight the flu and other disease outbreaks that impact our nation's economy and health security. The 2012-2013 influenza season started early and activity remains high in the United States. According to reports published on January 11, the flu reached epidemic levels when 7.3 percent of deaths in the United States were attributed to pneumonia and the flu. Here are some recommendations from CDC on how to stay healthy.
What can you do to stay healthy?
CDC Director Dr. Tom Frieden says, "Vaccination is the single most important step you can take to protect yourself...it's by far the best tool we have to prevent influenza."
View the latest information from Dr. Frieden.
NFL player Matt Birk of the Baltimore Ravens, who plays in this weekend's AFC Championship Game, explains why he gets vaccinated against the flu.
This season's flu and vaccine
Each year, CDC has the difficult task of forecasting the make-up of possible flu strains that may emerge in the coming year in order to accurately create a vaccine to combat them. This year's vaccine protects against the influenza A strain, H3N2, as well as influenza B. The flu resembles a cold but is much more severe with fever, body aches, cough, chills and fatigue.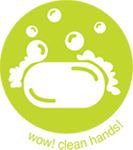 CDC recommendations
CDC's flu vaccine locator can help you find available vaccine locations near you. If you do become sick with the flu, consult your doctor to determine best treatment and to find out if you're a candidate for antiviral drugs. CDC also recommends:
Avoiding close contact with sick people.
Staying home if you get sick.
Covering your cough or sneeze with a tissue or your arm.
Washing your hands often with soap and water, rubbing for at least 20 seconds, or using an alcohol-based hand rub.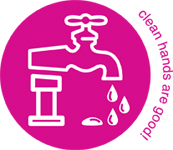 What's the difference between norovirus and the flu?
The norovirus illness is also on the rise this winter. Although norovirus is sometimes called "stomach flu," it is not related to the flu. The flu takes place in the respiratory system with cough and cold-like symptoms, while norovirus is a gastroenterological illness. Norovirus causes your stomach and intestines to become inflamed causing stomach pain, nausea, diarrhea and vomiting. Your best defense against norovirus is to wash your hands.
Learn more
Each week, CDC monitors and shares data for more than 60 different nationally notifiable infectious diseases from state health departments. CDC also routinely collects viruses through a domestic and global surveillance system to monitor for changes in influenza viruses.
You can visit FluView Interactive to see weekly influenza surveillance information in the United States. There is also a FluView mobile application for iPhones. Visit www.cdc.gov/flu or flu.gov for more information on the flu.

Artwork featured is by Didi Dunphy from the exhibition Watching Hands: Artists Respond to Keeping Well at the David J. Sencer CDC Museum, September 24, 2011 - January 13, 2012.
---
---