After the Earthquake: CDC Staff Return to Lend Hand in Disaster Response
This story was gathered from David Snyder's visit to Haiti. David reports on CDC programs in action for the CDC Foundation.
Jean Robert Bissainthe lived a lifetime in the minutes after the January 12 earthquake in Port-au-Prince, unsure if his young family had survived.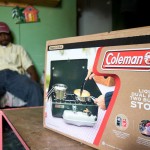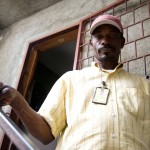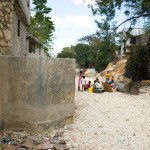 "I was outside when the land shook," Bissainthe says. "I rushed back to see if my daughters were OK. They were crying because they didn't see me."
Though many homes in the Petionville community in the hills above Port-au-Prince suffered damage, Bissainthe was one of the lucky ones. His two daughters and his parents survived, and his home was left intact. But as with many who survived the quake, Bissainthe, a local health worker in Haiti, was left traumatized by the disaster.
"Now every time the land shakes, everyone runs out."
The fear of another quake ran high in the weeks after the earthquake, and even those like Bissainthe whose homes survived the quake still slept outside. As neighbors helped neighbors, the CDC Foundation provided kits to help Haitian health workers get on their feet in the critical period after the quake. Bissainthe received a tent for his family and a small cooking stove.
"At first we stayed outside," Bissainthe says from outside of his home in Petionville, more than five weeks after the earthquake. "We got a tent from the CDC Foundation in February. I came back inside just four days ago."
With CDC mounting a large-scale response to the quake, Bissainthe says he knew his services as a driver would be needed. Leaving his two daughters in the care of his sister, he returned to work within a week to help shuttle CDC staff to coordination meetings and camp assessments through the shattered city.
"I decided to go back to work to give my help, because they are very busy now," Bissainthe says.
Bissainthe says he knows he is lucky to have survived the quake that killed thousands of people in Haiti. And while the earthquake is over, Haitians still face huge challenges rebuilding the poorest country in the western hemisphere after the devastating loss.
"We are healthy, we are OK," Bissainthe says. "But I don't know about the future."
---
PROGRAM SNAPSHOT
Global Disaster Response Fund Purpose:
Through our Global Disaster Response Fund, the CDC Foundation is helping fill the gaps as CDC works with in-country officials to rebuild public health infrastructure in Haiti. The fund helped address immediate needs like tarps, tents and handheld computers. Efforts are now focused on public health facilities, equipment and training opportunities. Make a Gift to support public health rebuilding efforts in Haiti.
Funding Partner:
multiple individuals and organizations
Program Partners:
CDC's Office of Public Health Preparedness and Response
CDC's Center for Global Health
CDC Principal Investigator:
John Moore, Ph.D., R.N.
CDC Foundation's Role: The CDC Foundation's Global Disaster Response Fund provides immediate, flexible resources to CDC experts addressing public health emergencies around the world - whether natural disasters, emerging diseases, or manmade biological threats. Following the earthquake in Haiti, CDC teams wanted to help their Haitian colleagues and their families, many of whom were sleeping outdoors without shelter. As a federal agency, however, CDC could not quickly and easily purchase temporary shelters and supplies for local public health workers and their families. CDC was able to use resources from the Foundation's Global Disaster Response Fund to fill the gap.
---
---
---