Above It All: Google Earth is Critical Tool in Aftermath of Haiti Quake
This story was gathered from David Snyder's visit to Haiti. David reports on CDC programs in action for the CDC Foundation.
From a dust-covered tent on the grounds of the United Nations camp in Port-au-Prince, you can see every square foot of the city. And what you cannot see well enough, you can zoom in on, thanks to the satellite imagery of Google Earth, which helped CDC staff respond to the disastrous Haiti earthquake.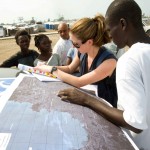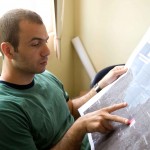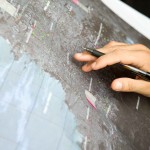 Using frequently updated satellite images, Google Earth allows users to access clear views of almost every area on earth in remarkable detail. When a massive 7.0 earthquake struck Haiti on January 12, 2010, more than 1.1 million people were displaced, most of them within the city of Port-au-Prince, Haiti's capital. As informal tented settlements began popping up across the city, CDC staff turned to the technology to help them chart, predict and locate patterns of movement, and to use those predictions to set up disease surveillance operations.
"Since the earthquake, Google Earth has allowed us to see where population densities are increasing," says Nathalie Roberts, a CDC public health advisor working in Haiti. "That has allowed us to identify 322 [Internally Displaced Camps] in the city."
Focusing on 21 priority camps, CDC conducted assessments of each site, and collaborated with the Haitian Ministry of Health and non-governmental agencies to set up an efficient, effective disease surveillance network. With hundreds of thousands of Haitians crowded into unsanitary camp settings, the potential for disease outbreak has been high, especially for endemic diseases like malaria and dysentery. So detailed are the images provided through Google Earth that CDC staff could map new camps as they arose, and quickly get help where it was most needed.
"Having the Google Earth images helps us find our way to camps where we need to intervene and to rapidly assess needs with our partners," Roberts says.
Bolstered by updates from CDC staff and those of other agencies visiting the camps, Google Earth and Google Groups established by the International Organization for Migration serve as a platform for a wide range of critically needed information about each site quickly after it becomes established. The technology enables agencies to determine which aid agencies are in the camps and what services – from food and supplies to shelter and sanitation materials – they are providing. In the chaotic aftermath of a disaster like the Haiti earthquake, the technology allows responders to make assessments with unprecedented speed, putting information at their fingertips within minutes instead of days. And speed, Roberts says, is essential to saving lives.
"Now that the information is available on Google Earth and established Google Groups you have immediate access to information and you can address gaps that exist," Roberts says.
The CDC Foundation is exploring how to help CDC leverage Google Earth in the future, since the innovative technology can boost CDC's capacity to respond to disasters faster and more efficiently.
By David Snyder
---
PROGRAM SNAPSHOT
Global Disaster Response Fund Purpose:
Through our Global Disaster Response Fund, the CDC Foundation is helping fill the gaps as CDC works with in-country officials to rebuild public health infrastructure in Haiti. The fund helped address immediate needs like tarps, tents and handheld computers. Efforts are now focused on public health facilities, equipment and training opportunities. Make a Gift to support public health rebuilding efforts in Haiti.
Funding Partner:
multiple individuals and organizations
Program Partners:
CDC's Office of Public Health Preparedness and Response
CDC's Center for Global Health
CDC Principal Investigator:
John Moore, Ph.D., R.N.
CDC Foundation's Role: The CDC Foundation's Global Disaster Response Fund provides immediate, flexible resources to CDC experts addressing public health emergencies around the world - whether natural disasters, emerging diseases, or manmade biological threats. Following the earthquake in Haiti, CDC teams wanted to help their Haitian colleagues and their families, many of whom were sleeping outdoors without shelter. As a federal agency, however, CDC could not quickly and easily purchase temporary shelters and supplies for local public health workers and their families. CDC was able to use resources from the Foundation's Global Disaster Response Fund to fill the gap.
---
---
---