Marge and Bill Watson Endowment for the William C. Watson Jr. Medal of Excellence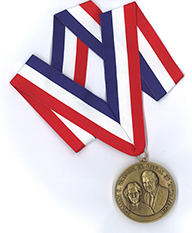 The CDC Medal of Excellence was established in 1977 as the premiere service award for CDC employees and was renamed for William Watson in 1985 on the occasion of his retirement from CDC. In 1999, Marge and William Watson established the Watson Endowment, which provides permanent funding for a cash award to be given by the Foundation to recipients of the Watson Medal of Excellence each year.
About William C. Watson, Jr.
William Watson, former deputy director at CDC, left a lasting legacy to public health. He passed away on December 23, 2013.
Funding Partners:
Marge and Bill Watson
Multiple individuals and organizations
Program Partners:
Centers for Disease Control and Prevention