Our Health-Care Hero: Charlie Stokes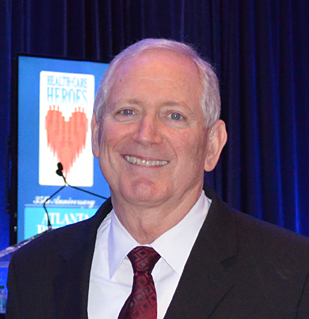 A well-deserved congratulations goes to our president and CEO, Charles Stokes, for being awarded the Atlanta Business Chronicle's 2013 prestigious Health-Care Hero Lifetime Achievement Award for his work helping the Centers for Disease Control and Prevention (CDC) advance its life-saving 24/7 work through public-private partnerships.
In receiving his award at the event, Charlie said, "I've had the privilege of working with CDC's brilliant and dedicated scientists, physicians and front-line staff. These individuals are public servants who put their lives on the line each and every day, working 24/7 to protect America from health and safety threats, both foreign and domestic. The people of CDC are the true heroes." Stokes also thanked his colleagues at the CDC Foundation, stating, "Our staff may be small in number, yet they do some really big things to help people here at home and around the world."
The ceremony last evening at the Cobb Energy Performing Arts Center recognized the unsung heroes of health-care including individuals and organizations demonstrating excellence and deserving recognition in the health-care community. Charlie was nominated for the award by current CDC Foundation board member David Ratcliffe and previous board chair Phil Jacobs.
Charlie was named the first leader of the CDC Foundation in 1995. Under his leadership, the CDC Foundation has provided $400 million to support CDC's work, launched more than 600 programs around the world and built a network of individuals and organizations committed to supporting CDC and public health. At the CDC Foundation, Stokes has increased staffing from two to 40 professionals to develop and manage the more than 200 partnerships currently underway with the CDC.
> Watch the video featuring Charlie from the Atlanta Business Chronicle event
A few words of congratulation for Charlie:
---
From Dr. Tom Frieden, CDC Director:
"The world is a healthier, safer place because of Charlie Stokes and the important work he leads on behalf of the CDC Foundation. The CDC Foundation has built public-private partnerships that help CDC do more, faster. I am grateful to Charlie for his crucial role in establishing a network of individuals and organizations committed to supporting CDC and public health."
From Gary Cohen, executive vice president of BD (Becton, Dickinson and Co.), acting CEO of GBCHealth and CDC Foundation board chair:
"Charlie has done a remarkable job leading the CDC Foundation since its inception 18 years ago. His passion for the public health mission of the CDC, and his considerable skills in establishing public-private partnerships with foundations, corporations and individuals, have contributed to protecting the U.S. population from health threats and advancing the well-being of people throughout the world who benefit from CDC's global impact."
From Dr. Bill Foege, former CDC Director, CDC Foundation Public Health Hero and 2012 Presidential Medal of Freedom recipient:
"When Buddha said, 'Health is the greatest gift, contentment the greatest wealth…,' he might have had Charlie in mind. His faithful service has brought health to many and contentment to those working at the CDC Foundation. We are proud of the Foundation's growth, contributions and impact, thanks to his leadership."
From Dr. David Satcher, former CDC Director and 16th Surgeon General of the United States:
"I have known and worked with Charlie for many years, first when I was the director of the CDC and more recently as a CDC Foundation board member. Charlie's commitment to CDC helps make the world and our community a safer place. He is truly deserving of this lifetime achievement award."
---
---