HOW UPS SUPPORTS BUSINESS CONTINUITY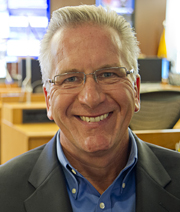 Chris Summerrow, Director of Business Continuity and Corporate Security, UPS
People – We have to have the right people in place. This is accomplished through our Incident Response Teams (IRTs) that are located at the local, regional and enterprise level and prepared to respond and recover all across the globe.
Processes – Documented plans provide the consistent process to respond and recover from an asset impacting event. Protocols are established that document what needs to be done and how it should be done.
Infrastructure – The hard assets have been developed and deployed that provide the structure and tools to respond effectively to significant incidents. We have Emergency Operation Centers located in every business unit that allow our IRTs to convene in person or virtually to support the response to an event. A Corporate Emergency Operations Center (CEOC) supports an enterprise response from the Atlanta headquarters for all significant, brand-impacting events.
Training – Lastly, our response and recovery operations would not be effective if we did not practice. Drills are conducted at least annually to address established risks that are evident at the time. Last year, UPS was the official logistics provider for the Summer Olympics. We had numerous drills in selected locations in Europe and Atlanta to ensure we were prepared if there was an event that disrupted our business.