World Hand Hygiene Day: Clean Hands Count!
Did you know that on any given day, one in 25 hospital patients has at least one healthcare-associated infection, according to the Centers for Disease Control and Prevention (CDC)? Practicing hand hygiene is a simple yet effective way to prevent these types of infections. Cleaning your hands can prevent the spread of germs, including those resistant to antibiotics and are becoming difficult, if not impossible, to treat. 
To coincide with World Hand Hygiene Day today, CDC, in collaboration with the CDC Foundation, launched a new promotional video for healthcare providers intended to promote and encourage adherence to CDC hand hygiene recommendations. 
This video is a component of the Clean Hands Count campaign, which aims to address myths and misperceptions about hand hygiene, increase hand hygiene adherence among healthcare professionals and empower patients to play a role in their care by asking or reminding healthcare providers to clean their hands. The CDC Foundation announced the launch of this campaign in partnership with CDC and GOJO in January 2016. We are grateful to GOJO for their partnership that made this campaign possible and to CDC for their leadership on this important effort.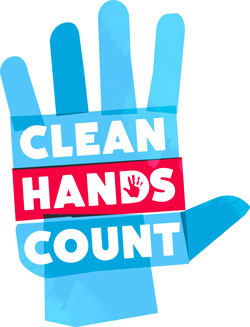 Learn more about this campaign and download brochures, fact sheets and infographics at www.cdc.gov/handhygiene. Join us in promoting hand hygiene by using the hashtag #CleanHandsCount. 
---
---
---