CDC Yellow Book: A Vital Resource for International Travelers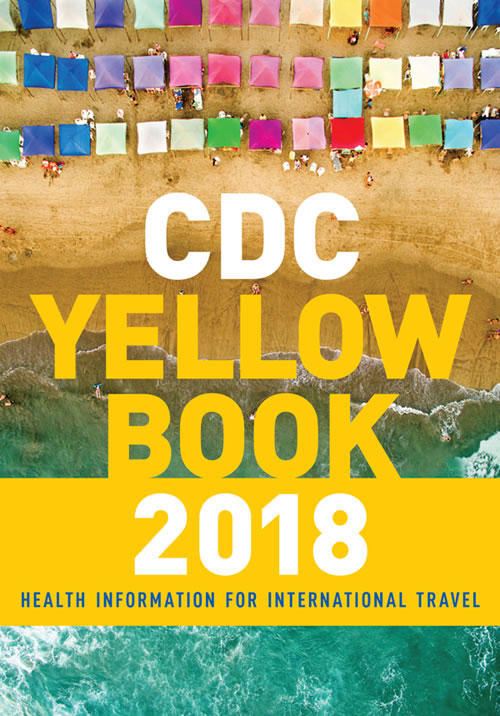 As unprecedented numbers of travelers cross international borders each day, the need for up-to-date, actionable information about the health challenges posed by this mass movement has never been greater. For both international travelers and the health professionals who care for them, CDC Health Information for International Travel (more commonly known as the Yellow Book) is the definitive guide to staying healthy and safe anywhere in the world. The Yellow Book is produced every two years, and is published through a unique collaboration between CDC, the CDC Foundation and Oxford University Press. 
Written by a team of CDC experts on the forefront of travel medicine, the Yellow Book provides a user-friendly, vital resource for those in the business of keeping travelers healthy abroad. 
The 2018 edition, released this week, serves as the U.S. government's most current health guidelines and information for international travelers, including pre-travel vaccine recommendations, destination-specific advice, and easy-to-reference maps, tables and charts.
The 2018 Yellow Book includes important travel medicine updates, including:
The latest information about emerging infectious disease threats such as Zika, Ebola and MERS
New cholera vaccine recommendations
Updated guidance on the use of antibiotics in the treatment of travelers' diarrhea
Special considerations for unique types of travel, such as wilderness expeditions, work-related travel and study abroad
Destination-specific recommendations for popular itineraries, including new sections for travelers to Cuba and Burma
Learn more about the 2018 edition of the Yellow Book on CDC's website. Order the 2018 edition online through Oxford University Press here.
---
---
---