National Public Health Week 2016: Healthiest Nation 2030
This week is National Public Health Week – a time to reflect on how the field of public health benefits all of us. An initiative of the American Public Health Association (APHA) for more than 20 years, National Public Health Week aims to raise awareness of important public health protection initiatives and achievements. On Monday, President Obama issued a proclamation recognizing the value of public health and its importance for generations to come.
Public health is the science of protecting and improving the health of families and communities through detection and control of infectious diseases, research for disease and injury prevention, and the promotion of healthy lifestyles. Put simply, public health is concerned with protecting the health of populations. These populations can be as small as a local neighborhood, or as big as an entire country or region of the world.
Strong public health infrastructure is key to a healthy economy and a healthy nation. For the Centers for Disease Control and Prevention (CDC), America's premier public health protection agency, every week is public health week. CDC works 24/7 to save lives and prevent, protect and respond to health threats at home and abroad. During the past year, the world has seen—the life-saving work of CDC through the agency's response to the unprecedented Ebola epidemic and most recently, the Zika virus.
From April 4-10, National Public Health Week will explore a variety of themes aimed at improving the health of our nation and the world. A few of this year's key focus areas include: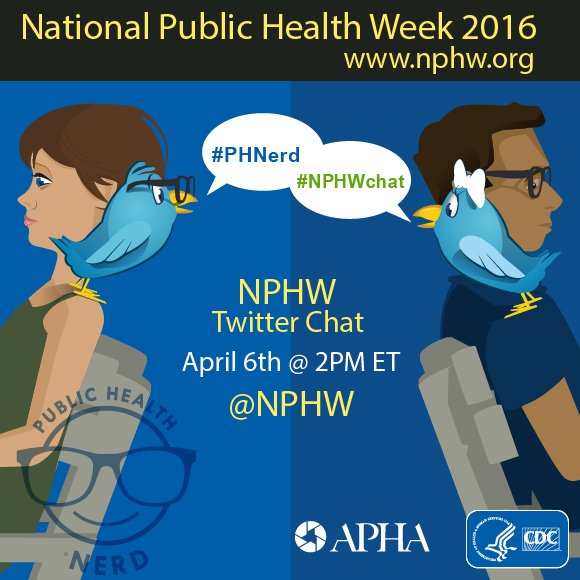 This year, APHA will host its sixth annual National Public Health Week Twitter Chat on April 6, 2016 at 2:00 p.m. ET. Follow @NPHW on Twitter and use the hashtag #NPHWchat to join the conversation on creating a healthier nation by 2030. You can also raise awareness of the value of public health and prevention by searching for events in your community on APHA's interactive map.
While National Public Health Week comes around once a year, CDC Foundation works every day to establish public-private partnerships that advance and strengthen CDC's public health protection programs. The dedication of our partners and donors makes this great work possible. We are proud to support CDC as they save lives around the clock and around the globe.
---
---