Donor Funds Bolster West African Emergency Response
This blog is second in a series featuring examples of how the CDC Foundation through the generous support of donors to its Global Disaster Response Fund is assisting CDC by meeting critical needs in the fight against Ebola.
Workers prepare the site of the future home for Sierra Leone's emergency operations center in Freetown.
Imagine commanding a large ship in a storm without having a functioning command center where you can control the steering or the engines. In effect, that's what running a public health emergency response effort is like in countries without a centralized emergency operations center (EOC).
"Unfortunately, that's the situation that confronted the three most-affected countries—Guinea, Liberia and Sierra Leone—in the current Ebola epidemic," said Peter Rzeszotarski, an emergency management specialist at the U.S. Centers for Disease Control and Prevention (CDC), who is working on the response.
This Ebola epidemic is the largest in history. To date, more than 17,800 people have been infected with the virus and more than 6,300 have died. After years of instability, Guinea, Liberia and Sierra Leone had tenuous health systems before the epidemic, which made it difficult to mount robust responses to match the scale of this outbreak.
Having a comprehensive emergency coordination system that functions as a strategic command center is key to mounting a successful response. Early on, the CDC emphasized the need for each country to have both the infrastructure and capabilities for this purpose, but U.S. government funding was not available to support this long-term solution.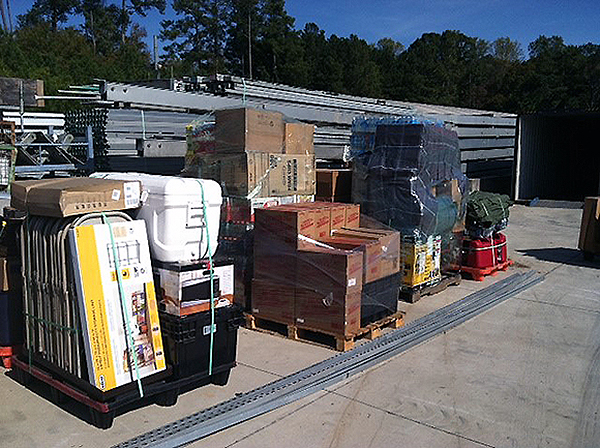 Proteus On-Demand Facilities is the company the CDC Foundation is contracting with to manufacture and construct the new emergency operations centers in Liberia and Sierra Leone. The company has been staging and shipping materials and supplies, as shown above, from its Atlanta facility to West Africa as in-country construction nears.
The CDC determined that establishing physical EOCs would help address the immediate need and also create lasting capacity for response to future health threats. So, the CDC Foundation quickly connected with the Paul G. Allen Family Foundation, which initially committed $9 million to the effort, based on early estimates of need, and committed a total of $12.9 million, based on more complete assessments by CDC and the three nations' ministries of health.
"The three EOCs in these affected countries will give national public health emergency management staff a functional workspace equipped with surveillance support and analytical tools to monitor public health conditions and issue early warnings of emerging threats," said Rzeszotarski. "The EOCs will also have a communication platform for health education and social mobilization, as well as planning, operations, and logistics capacity to respond to health security threats."
Until more permanent solutions are in place, EOCs for each of these countries have been located in temporary facilities coordinated between USAID's Disaster Assistance Response Team and each ministry of health. But through the Paul G. Allen Family Foundation funding, EOCs—including the buildings, equipment and training for staff working in them—are now under development for each country.
EOCs in Freetown, Sierra Leone, and Monrovia, Liberia, will be housed in new pre-fabricated buildings that are being constructed in the United States and shipped this month to Sierra Leone and Liberia for assembly in these two countries. In Conakry, Guinea, an existing structure is being renovated, and the benefits are already accruing there, where a call-in line has been reactivated.
"A call-in line for reporting about people who are sick or for responding to questions is essential in this type of response," said Rzeszotarski. "In Guinea, the existing infrastructure proved inadequate to maintain the lines, hampering response efforts. With donated funds, the CDC Foundation re-established the infrastructure in Guinea's renovated EOC. Even before the new line officially launched, it was receiving more than 5,000 calls a day, and trained operators have been answering questions or dispatching staff and ambulances as needed."
A call center in Guinea's new emergency operations center in a building being renovated in Conakry recently began operation taking 5,000 calls per day. Operators answer health-related questions from callers and receive alerts on sick people.
CDC Foundation President and CEO Charles Stokes describes how bringing in private-sector support can help address issues. "Public-private partnerships can bring speed and flexibility to meet urgent needs. It might normally take two or more years to design and construct EOCs. We've been able to work with CDC and the Paul G. Allen Family Foundation to make it happen in approximately four to five months."
All three facilities should be in place and functioning in early 2015. Once complete, EOCs will help these countries respond to the current epidemic as well as to rapidly detect and respond to future outbreaks.
Stokes summed up the desire for a longer-term impact: "Fundamental for the CDC Foundation and for the Paul G. Allen Family Foundation was ensuring that resilient, systems-strengthening infrastructure will remain in place to fortify public health systems for the future in Guinea, Liberia, and Sierra Leone. The synergies provided by our public-private partnerships are delivering on that goal."
---
---
---