A Song for You
The CDC Foundation, in partnership with Kelley Elle, a singer and songwriter from Los Angeles, shares Against All Odds, a song inspired by the work of health workers, scientists and partners who are working on the frontlines in the global fight against health threats.
This song is for all of the Centers for Disease Control and Prevention staff who are tackling the greatest health threats of our time. And it's for our partners and donors who rise up to meet significant needs across the globe. We hope this message inspires you to join us and to continue to collaborate on tough health issues—our movement to make a difference in this world. Because we believe that working together, anything is possible.
---
Learn more about the inspiration of Against All Odds: Read Dr. Judy Monroe's Blog | View Press Release
Use of the song is a gift to the CDC Foundation from the songwriters and the video production is made possible by the Monroe family in tribute to Verna Monroe, Dr. Judy Monroe's mother and Kelley's grandmother.
---
About Kelley Elle
With a soulful sound, captivating original lyrics and contemporary elegance, Kelley Elle is quickly establishing herself as a premier international singer-songwriter and performer. Her lyrics are relatable, strong and courageous—nurtured by experiences from around the globe and brought to life by her unique and powerful voice. Kelley has performed for nearly 15 years with various groups and artists, from the Moscow Chamber Orchestra to Madonna's Super Bowl halftime show. Together with Grammy award producers Charlie Midnight and Jan Fairchild, Kelley delivers "Against All Odds," a passionate anthem about coming together to fight for the healing of people and the planet we inhabit, produced as a tribute to Kelley's grandmother who beat all odds and survived polio, and inspired by the work of the CDC Foundation.
Learn more about Kelley Elle: Instagram | Facebook | Twitter
It was an honor to work on this song, and my hope is that it inspires us all to come together and fight health threats with determination and strength.
---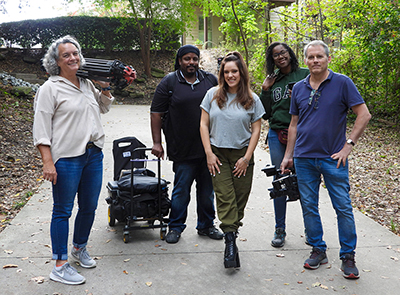 Against All Odds Credits
Written by Kelley Elle, Charlie Midnight and Jan Fairchild
Produced by Charlie Midnight and Jan Fairchild
Video Production: One Production Place
Footage: One Production Place
David Snyder
Evelyn Hockstein
CDC
CDC Foundation
Song Cover Art: Allie Oliver-Burns
Photo of Kelley: Royce Gorsuch/MPH Media