Zombie Task Force

Welcome future Zombie Task Force members! We are glad you are ready to be prepared for a zombie apocalypse, as well as any other disasters (imaginary or real) that may come your way. Carry on and spread the word to others who may not be quite as ready for a zombie invasion! Get a kit, Make a plan, Be prepared!
Zombie Task Force T-shirt No Longer Available
Unfortunately we are no longer offering CDC Zombie Task Force t-shirts.
Spread the Word
Spread the word by including CDC preparedness and emergency information on your website with web badges, buttons, widgets, and content syndication. Learn more.
Follow CDC's emergency news on Facebook, Twitter or on the Public Health Matters blog.
Get a kit. Make a plan. Be prepared.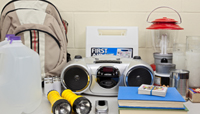 There are all kinds of emergencies out there that we can prepare for. So what do you need to do before zombies…or hurricanes or pandemics for example, actually happen?
Get a kit. Make a plan. Be Prepared.
Did you know?
CDC safeguards our nation from major health threats.
Crisis Response
CDC's Emergency Operations Center serves as a 24/7 central command for public health responses to emergencies like Hurricane Katrina, H1N1 and the Deepwater Horizon explosion.
Medical Stockpile
CDC maintains a Strategic National Stockpile that distributes lifesaving vaccines, medicines and supplies following a public health crisis.
Bioterrorism Prevention
CDC's Rapid Toxic Screen Test can screen human blood for traces of 150 toxic chemicals, including those most likely to be used by terrorists.
State Readiness
CDC provides essential funding for state and local health departments to develop emergency response plans and maintain around-the-clock disease detection and reporting.
Food Safety
CDC helped investigate more than 200 multi-state foodborne outbreaks in 2010, including E. coli and Salmonella.
Global Detection
CDC's global disease detection network responded to 535 disease outbreaks and detected 51 new pathogens from 2006 to 2010.
Learn more about how CDC protects us all.