Tobacco Control Surveillance and Capacity Building in Africa
Tobacco use is the leading cause of preventable death and disease in the world, resulting in approximately six million deaths annually. Compared to many other regions, tobacco use remains relatively low in sub-Saharan Africa, but consumption in the region is rising as tobacco companies are increasingly targeting low- and middle-income countries. It is estimated that without comprehensive tobacco use prevention and control policies, smoking prevalence in the region could rise from approximately 15 percent in 2010 to almost 22 percent in 2030.
Expanding CDC's Global Tobacco Surveillance System
The Global Tobacco Surveillance System (GTSS), comprised of the Global Adult Tobacco Survey (GATS), the Global Youth Tobacco Survey (GYTS), and Tobacco Questions for Surveys (TQS), provides globally standardized data to track adult and youth tobacco use prevalence and trends across the world. The CDC Foundation supports the work of CDC, the World Health Organization (WHO), and other international partners in implementing and expanding select components of GTSS in sub-Saharan Africa.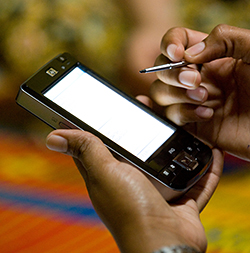 Many countries in sub-Saharan Africa lack comprehensive and comparable data on adult tobacco use trends and effects of tobacco use. The implementation of GATS and TQS will generate comparable data within and across countries and enhances a country's capacity to design, implement, and evaluate tobacco control interventions.
GYTS, a school-based survey that collects data on students aged 13–15 years, is intended to enhance a country's capacity to design, implement, and evaluate youth tobacco control and prevention programs. The collection of GYTS data will provide much needed youth tobacco use trend data for most of the African continent.
In addition to funding, the CDC Foundation provides logistical and administrative support; including, managing contracts and procurement, convening subject matter experts and partners, working with WHO and CDC to support survey implementation, and helping operationalize CDC's vision for global tobacco surveillance.

Helping CDC Build Tobacco Control Capacity
The data collected through GTSS will be used to build research, epidemiology, and policy capacity in sub-Saharan Africa. The CDC Foundation supports CDC in implementing Data to Action workshops to build in-country and regional tobacco control capacity for advancing tobacco control policies, programs, and research. In addition, the facilitation of locally and regionally produced publications will enhance data analysis and research capacity in the region.
This project is supported by the Bill & Melinda Gates Foundation.
Funding Partners:
Bill & Melinda Gates Foundation
Program Partners:
CDC's National Center for Chronic Disease Prevention and Health Promotion, Office on Smoking and Health, Global Tobacco Control Branch
World Health Organization
RTI International
Program Location:
Burkina Faso
Benin
Botswana
Côte d'Ivoire
Cameroon
Algeria
Eritrea
Ethiopia
Ghana
Gambia
Mali
Mauritania
Mauritius
Niger
Nigeria
Seychelles
Sierra Leone
Chad
Togo
Tanzania
Uganda
---