Safe Delivery for Mothers in Kenya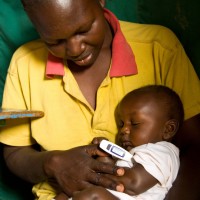 In rural western Kenya, only 40 percent of pregnant women deliver in a healthcare facility. Your gift of $15 to the CDC Foundation's Safe Delivery in Kenya program will help CDC and its partners provide transportation to a healthcare facility for expecting mothers and ensure that women giving birth in a facility or at home have access to a safe delivery kit and blood supply.
CDC has a significant presence in Kenya, working with partners to protect people, save lives and turn science into action. Key activities include working with partners to conduct disease surveillance, research on protecting people from malaria—particularly pregnant women, and programs to prevent mother-to-child transmission of HIV.
CDC-Kenya works with healthcare providers and community health workers to help ensure that both mothers and newborns are protected from infections and complications during delivery. In Kenya, 7,700 women die each year from complications caused by pregnancy and childbirth despite the fact that almost 90 percent of them are preventable. The leading causes of maternal death in Kenya are from obstetric complications such as severe bleeding, obstructed labor and indirect causes such as AIDS/HIV, malaria and TB, which are aggravated during pregnancy. Healthcare providers and community health workers often do not have access to adequate supplies and equipment needed for a safe delivery due to funding gaps.
CDC-Kenya: Protecting Mothers and Babies from Deadly Health Threats
To prevent mother-to-child transmission of HIV, CDC-Kenya works to ensure that pregnant women receive routine HIV testing, that HIV-infected mothers and their exposed infants receive anti-retroviral therapy and that families receive education on safe infant feeding practices.To contribute to the world's knowledge about how best to protect pregnant women from malaria, CDC-Kenya conducts research on intermittent preventive treatment in pregnancy (IPTp). Within this research context, CDC-Kenya has been able to provide participating mothers health education, free transportation to deliver in a healthcare facility and waived delivery costs, which has resulted in over 90% of the participants delivering at a health facility.
Funding provided to the CDC Foundation's Safe Delivery for Mothers in Kenya program will allow CDC to extend free transportation and supplies for safe delivery to pregnant women outside the IPTp research study. CDC-Kenya conducts door-to-door interviews every four months in three districts in western Kenya to collect data on births, deaths, illnesses and pregnancies. As researchers visit households to collect data, thanks to contributions to the CDC Foundation program, they are able to distribute safe delivery kits and offer transportation for pregnant women to a healthcare facility for delivery.
Funding Partners:
Multiple individuals and organizations
Program Partners:
CDC's Center for Global Health