Ending Tuberculosis in Vietnam
Tuberculosis (TB) is the world's deadliest infectious disease. In 2018, the largest number of new TB cases occurred in the South-East Asian region, with 44 percent of new cases. Viet Nam ranks 11th among the 30 high-burden countries, with an estimated 174,000 TB patients in 2018. Over the past decade, Viet Nam has dramatically reduced the prevalence of smear-positive TB among adults, the most infectious type of TB. However, the TB burden based on the recent prevalence survey remains high, and the government of Viet Nam and CDC have recognized that intensified interventions are needed in order to "bend the curve" and accelerate the decline in TB prevalence.
This project is an important partnership between the Taiwan Centers for Disease Control (CDC); Ministry of Health and Welfare, R.O.C; the U.S. Centers for Disease Control and Prevention (CDC); and the CDC Foundation to support Viet Nam in their goal to move towards TB elimination. This project focuses on addressing TB in Ho Chih Minh City, Viet Nam by drawing on the collective public health expertise, experience and resources of Taiwan, Viet Nam, and the U.S. so that by working together, there can be more impact.  
The overall project objectives are to:
Evaluate current capacity and feasibility and develop a diagnosis and treatment model to find and cure adult and pediatric TB cases in Ho Chi Minh City using the most effective strategies demonstrated in the initial Zero TB Viet Nam pilot project; and
Help accelerate local elimination through TB prevention and detection efforts by expanding latent TB infection treatment to high-risk groups.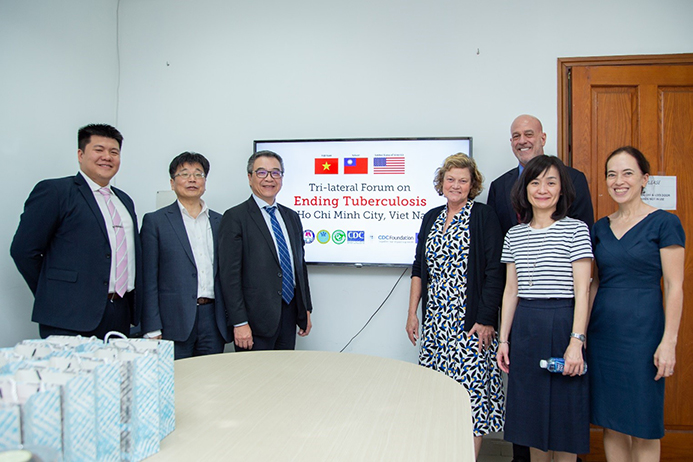 In 2019, the project organized a Trilateral Forum focused on catalyzing regional partnerships towards ending TB in Viet Nam. The forum convened key partners including the National TB Program, the Ho Chih Minh City Department of Health (DoH), Pham Ngoc Thach Hospital, (responsible for the TB program in the south), Taiwan Ministry of Health and Welfare, Taiwan CDC, U.S. CDC, and local implementing partner Friends for International TB Relief (FIT). The Forum officially established a regional partnership to end TB in Ho Chih Minh City, and participants held technical exchanges in support of national planning, identifying program gaps and sharing lessons learned related to case finding, treatment and engaging the private healthcare sector in TB interventions.
Funding Partners:
Taiwan Centers for Disease Control, Ministry of Health and Welfare, ROC
Program Partners:
CDC's Center for Global Health