Health Equity Advocate Shiriki Kumanyika Receives 2019 Elizabeth Fries Health Education Award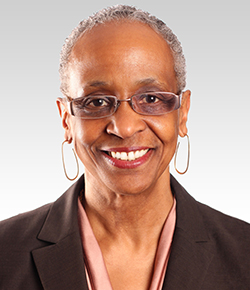 Salt Lake City, UT–Shiriki Kumanyika, PhD, MPH, a distinguished scholar in the fields of public health nutrition and health disparities research today was awarded the 2019 Elizabeth Fries Health Education Award. Kumanyika currently serves as research professor in the Department of Community Health and Prevention at the Drexel University Dornsife School of Public Health and is professor emerita of epidemiology at the University of Pennsylvania. This year's award was presented to Kumanyika at the 70th Annual Meeting of the Society for Public Health Education (SOPHE). The CDC Foundation with the James F. and Sarah T. Fries Foundation honored Kumanyika for her pioneering research that is contributing to obesity prevention and treatment interventions targeting minority populations.
The Elizabeth Fries Health Education Award, first presented in 1992, recognizes a health educator who has made a substantial contribution to advancing the field of health education or health promotion through research, program development or program delivery.
"Dr. Kumanyika's advocacy for health equity for minority populations has left an indelible mark on public health and health education," said Lawrence Green, DrPH, ScD (Hon), Chair, James F. and Sarah T. Fries Foundation Board of Directors. "We are grateful for her commitment to obesity prevention and treatment intervention and honored to present her with the Elizabeth Fries Health Education Award."
Kumanyika founded and chairs the Council on Black Health, formerly the African Collaborative Obesity Research Network (AACORN), a national network of academic scholars and community research partners based in approximately 20 states around the nation. The mission is to develop and promote solutions that achieve healthy black communities. The Council's national office is based at Drexel University.
Her primary research interests are prevention and control of obesity and other diet-related risk factors and chronic diseases, with a particular focus on achieving health equity for black Americans.
For more than three decades, she has led or collaborated on clinical trials or observational studies related to obesity, sodium intake, and other aspects of diet and lifestyle. Several of these studies have evaluated interventions to promote healthy eating and physical activity in African American children or adults in clinical or community-based settings. Her research has included studies of the marketing of unhealthy foods and beverages and food price influences on household food availability in black communities.
During her tenure at the University of Pennsylvania School of Medicine, Kumanyika also served as the associate dean for Health Promotion and Disease Prevention and held a secondary appointment as professor of epidemiology in the Department of Pediatrics. She was the founding director of the University of Pennsylvania's interdisciplinary, multi-school Master of Public Health program.
Kumanyika was vice-chair of the Health and Human Services (HHS) Secretary's Advisory Committee on Healthy People 2020 objectives, is a past president of the American Public Health Association, and is a member of the National Academy of Medicine. She has extensive experience in advisory roles related to public health and nutrition policy in the United States and abroad. She is currently a member of the Centers for Disease Control and Prevention (CDC) Task force on Community Preventive Services, co-chair of the Policy and Prevention Section of the World Obesity Federation, a member of the Lancet Commission on Obesity, and a nutrition policy advisor to the World Health Organization and the World Cancer Research Fund.
The Elizabeth Fries Health Education Award was named in memory of Elizabeth Fries, who was a professor of psychology at Virginia Commonwealth University and co-director of the Massey Cancer Center Outreach Program. She made many important contributions to program development, implementation and evaluation. The Elizabeth Fries Health Education Award recipients receive a $25,000 prize. The award and lecture have been presented annually at the SOPHE conference, which draws approximately 900 health education researchers, faculty, practitioners and students for the latest research and practice in health education. Founded in 1950, SOPHE's mission is to provide global leadership in health promotion and to promote the health of society.
The James F. and Sarah T. Fries Foundation is a nonprofit corporation incorporated in 1991. The mission of the Foundation is to identify and honor individuals, organizations or institutions that have made great contributions to the health of the public. The Foundation seeks to reward accomplishment rather than promise, practicality rather than theory.
The CDC Foundation is honored to partner with the James F. and Sarah T. Fries Foundation, which established and funds the award. As of 2016, the CDC Foundation manages and administers the Fries Foundation's public health award programs, which include the Fries Prize for Improving Health and the Elizabeth Fries Health Education Award.
---