Shiriki Kumanyika Receives 2019 Elizabeth Fries Health Education Award
I am delighted to share with you that Shiriki Kumanyika, PhD, MPH, today received the 2019 Elizabeth Fries Health Education Award. Shiriki received this prestigious recognition for her pioneering research that is contributing to obesity prevention and treatment interventions targeting minority populations.
Shiriki's primary research interests are prevention and control of obesity and other diet-related risk factors and chronic diseases, with a particular focus on achieving health equity for black Americans. She founded and chairs the Council on Black Health, which develops and promotes solutions that achieve healthy black communities.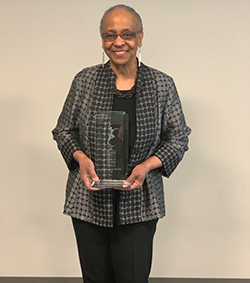 Lawrence Green, DrPH, ScD (Hon), chair of the James F. and Sarah T. Fries Foundation, noted that Shiriki's advocacy for health equity for minority populations has left an indelible mark on public health and health education.
Today's ceremony and lecture took place at the 70th Annual Meeting of the Society for Public Health Education (SOPHE) in Salt Lake City, UT. The Elizabeth Fries Health Education Award recognizes a health educator who has made a substantial contribution to advancing the field of health education or health promotion through research, program development or program delivery. Award recipients receive a $25,000 prize.
The CDC Foundation is honored to partner with the James F. and Sarah T. Fries Foundation, which established and funds the Fries Prize for Improving Health and the Elizabeth Fries Health Education awards. The CDC Foundation manages and administers the Fries Foundation's public health award programs.
---
---
---