Congratulations to Dr. David Satcher, 2021 Fries Prize for Improving Health Recipient
The COVID-19 pandemic has laid bare the health inequities across our country and around the globe. David Satcher, MD, PhD, has worked his entire career to help eliminate health disparities and achieve health equity in the United States and globally. I am pleased to announce that today Dr. Satcher was honored with the Fries Prize for Improving Health in a ceremony at the American Public Health Association's annual conference.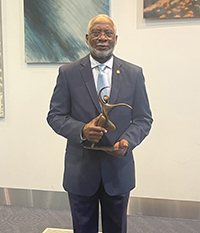 Throughout Dr. Satcher's career he has held firm to eliminating health disparities and this focus is evident in his public health leadership roles. He served as the 16th U.S. surgeon general from 1998 to 2002 while also serving as the 10th assistant secretary for health in the Department of Health and Human Services, making him only the second person in history to have held both positions simultaneously.
During his time as U.S. Surgeon General, health disparities in tobacco use and access to mental health services by race and ethnicity came to the forefront. The Office of the Surgeon General released 14 reports focused on issues such as tobacco and health, mental health, suicide prevention, oral health, sexual health, youth violence prevention, overweight and obesity, and the health of persons with intellectual disabilities.
His tenure of public service includes serving as director of the Centers for Disease Control and Prevention (CDC) from 1993 to 1998 and Administrator of the Agency for Toxic Substances and Disease Registry. During his time at CDC, he spearheaded initiatives that have increased childhood immunization rates, upgraded the nation's capability to respond to emerging infectious diseases and laid the groundwork for a new Early Warning System to detect and prevent food-borne illnesses.
The world faces a tremendous challenge to repair and rebuild after the devastating social, economic and health impact of the COVID-19 pandemic. I am thankful for Dr. Satcher's leadership and research, which has created a strong foundation to make health equity a reality.
The CDC Foundation is honored to partner with the James F. and Sarah T. Fries Foundation to present the Fries Prize for Improving Health, annually each fall. Dr. Satcher joins a long and distinguished list of Fries Prize recipients.
---
---
---