Our Process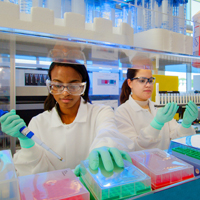 While each relationship is unique, the CDC Foundation can connect you to a broad range of partnership opportunities with CDC scientists and leaders to protect public health and safety.
Sometimes, a partnership begins at CDC with a scientist who has a great idea and wants to collaborate with an outside partner to make it happen. At other times, organizations in the private sector recognize that they can better accomplish their own public health goals by working with CDC through the CDC Foundation. Often, partners become engaged early on in a project to clearly understand its objectives or participate in the program design. Several partners may jointly fund a program to ensure its successful completion.
Partnerships forged by the CDC Foundation include traditional philanthropic donor/grantee relationships; collaborative alliances between CDC and a single private sector organization; broad multi-partner initiatives that may include more than one funding stream; and research collaborations involving CDC expertise and laboratory capacity associated with a partner's larger proposal and CDC's public health agenda. Working together, we can help you join with CDC to creatively and vigorously tackle health threats. Learn more about our partnership cycle.
What can you expect from us?
Expertise: Building alliances with a large government agency like CDC can be daunting. That's why the CDC Foundation exists – to bridge the gaps that often occur when the public and private sectors work together. CDC Foundation staff members are expert project managers who understand how to work with CDC, including negotiating project details, coordinating staffing, writing contracts and managing budgets.
Accountability: An important part of our role is ensuring that programs are successfully implemented. As active stewards of all projects, we are fully accountable for monitoring your project's progress and success. This focus on accountability assures you that your investments are being used wisely – and as you intended.
Flexibility: Because the CDC Foundation is an independent, nonprofit organization, we can expeditiously create public health programs that harness innovative ideas, resources and expertise from both the private sector and CDC to address health threats more effectively than either sector can do alone.
Timeliness: Private sector engagement with CDC helps speed up projects that might not move as quickly within the framework of a government agency. Your involvement can expand what CDC can do by accelerating great ideas and programs faster than might otherwise be possible.
Guidance: With our in-depth knowledge of CDC's people and programs, we can provide you with a roadmap to better navigate CDC.
Reach: Many partnerships forged by the CDC Foundation draw from the expertise and resources of multiple partners. These cross-cutting alliances can maximize your program's reach and impact, while providing unprecedented opportunities to share lessons learned. Additionally, our ongoing connections within CDC often spark ideas about other collaborations between CDC and our partners. The CDC Foundation is uniquely capable of bringing resources, people and ideas together that might not otherwise converge.
Please note that the CDC Foundation is not a traditional grantmaking foundation. We are unable to respond to requests for funding that do not originate at CDC.
Learn more about our partnership policies and guidelines.