Safe Water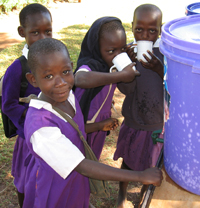 Lack of access to safe water affects approximately 750 million people in the developing world. Every minute a child dies from a contaminated water-related disease.
Through CDC-supported programs, families in developing countries are learning that simply by treating their drinking water with diluted chlorine bleach; storing it safely in a narrow-mouthed, lidded vessel; and washing their hands with soap and water, they can ensure a supply of safe, clean water in their homes. The simple, yet effective, technology was developed by CDC and the World Health Organization and is called the Safe Water System. The CDC Foundation connects CDC with a wide-range of outside partners to launch or expand safe water programs all over the world.
Rob Quick, M.D., M.P.H., medical epidemiologist with CDC's Waterborne Disease Prevention Branch, works to launch and implement many of CDC's safe water projects. "The Safe Water System itself is a simple technology," says Quick. "But, setting up effective safe water programs in developing countries can be very complex. We rely heavily on our partners here at home and in the field."
Quick explains that CDC works with local partners to determine appropriate packaging for the system, translate educational materials, and develop plans to distribute and encourage use of the product. Resources must be available to produce the locally branded diluted bleach solution and safe water storage containers, and, once the project is underway, CDC also must have the capacity to work with local partners to conduct research on usage rates of the system and its effectiveness in preventing disease and death.
Learn more at the CDC Safe Water System website.
Linking CDC with Private Sector Innovation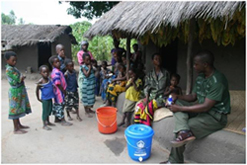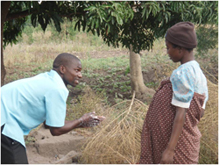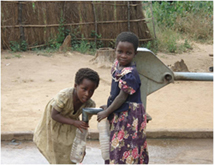 Through partnerships with the Bill & Melinda Gates Foundation, the Procter & Gamble Company, Vestergaard Frandsen SA, The Clorox Company, the American Chemistry Council, Medentech and Arch Chemicals, the CDC Foundation has funded 20 water-related projects with CDC since 2003 in places such as Afghanistan, Bangladesh, China, Ghana, Kenya, Malawi, Mozambique, Pakistan and the Philippines.
"We really have appreciated the role the Foundation has played in our projects over the years because it does provide a way for the private sector and other donors to support our projects," says Quick. "Given that well over 1 billion people lack access to safe water, there are countless ways for us to put that support to good use."
Besides basic bleach solution, CDC has evaluated the following products now widely used in the developing world:
Proctor & Gamble's PUR sachet, a tiny packet of powder that can transform potentially deadly water into clean, drinkable water within 30 minutes;
Ireland-based Medentech's Aquatabs, a leading water purification tablet that kills micro-organisms in water to prevent cholera, typhoid, dysentery and other waterborne diseases; and
Swiss-based Vestergaard-Frandsen's LifeStraw® Family Filter, a household water purification tool that filters up to 700 liters of water and effectively removes most of the micro organisms responsible for causing waterborne diseases.
"We are evaluating their efficacy in preventing disease and we evaluate their effectiveness in real-world situations. We also look at the ability to scale up these interventions because that is a key thing," says Quick. "Our position as a group is that it's unconscionable that here we are in the 21st century and so many people lack access to safe water."
CDC has received funding to assess the long-term impact of an antenatal clinic-based water treatment and hygiene program in Malawi specifically focused on water treatment and hand-washing behavior of mothers and their female relatives and friends. Photos of the antenatal care program in Machinga, Malawi, 2011 to 2012, can be seen above.
Gangarosa Endowment for Safe Water
Reflecting a lifelong commitment to provide safe water around the world, Dr. Gangarosa and his wife, Rose, established the Gangarosa Endowment for Safe Water in May 2000 to provide an ongoing source of support for CDC's safe water initiatives. Learn more