What is Meta-Leadership?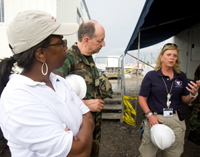 A meta-leader is a leader of leaders, who mobilizes people and organizations to collaborate in times of crisis.
When disaster strikes, meta-leaders reach across organizations and sectors to build cross-cutting strategies to protect the safety of their families, businesses and communities. They exchange information, share resources and coordinate systems and personnel. They use their influence and connections to guide a cooperative course of action.
Being a meta-leader requires a unique mindset and skill set, which often goes beyond the scope of an individual's previous experiences. And it requires building strong alliances with a diverse array of leaders before an event occurs.
The Meta-Leadership Summit for Preparedness Initiative
The Meta-Leadership Summit for Preparedness initiative evolved after 9/11 and Hurricane Katrina underscored the need for leaders to work collaboratively across public and private sectors to respond to crises. The CDC Foundation, working with CDC, reached out to Dr. Leonard Marcus and Dr. Barry Dorn at the National Preparedness Leadership Initiative-Harvard School of Public Health. Their research and expertise in developing the concept and practice of meta-leadership has played a key role in shaping strategic thinking on national and international terrorism preparedness and emergency response. The CDC Foundation proposed adapting the meta-leadership training they had been conducting at Harvard for government leaders to a series of events for business, government and nonprofit leaders nationwide. The Robert Wood Johnson Foundation provided a grant to the CDC Foundation to launch the five-year Meta-Leadership Summit for Preparedness initiative.
Working closely with CDC, Harvard University and the Robert Wood Johnson Foundation, the CDC Foundation organized and hosted 36 Meta-Leadership Summits in states and metropolitan areas across the U.S. reaching 5,000 leaders of businesses, government agencies and nonprofit organizations. At each Summit, participants learned leadership skills needed for effective action during times of crisis from Harvard University presenters and then worked together to identify local and regional partnerships that could be leveraged before, during and after a crisis.
"The Federal government has taken significant steps to increase connectivity between its agencies; between the federal, state and local agencies; and between the public, private and non-profit sectors. Still, there is much more work to be done," says Dr. Barry Dorn. "Eighty-five percent of the critical infrastructure is in the private sector – including utilities, banks and the food supply – and thus working and leading collaboratively is essential to our recovery from any large-scale crisis. Working together after a disaster requires forging bonds before a disaster."
After each Summit, a dedicated CDC team worked with state and local leaders to organize a post-summit activity to continue the momentum of meta-leadership efforts begun at the Summit. The activity, offered within three to six months of the Summit, reconvened participants and other community leaders to address local and regional preparedness gaps identified at the Summit.
Back to Resource Center Home |Next Topic: Who is Working on Meta-Leadership?