Finding Hosts and Sponsors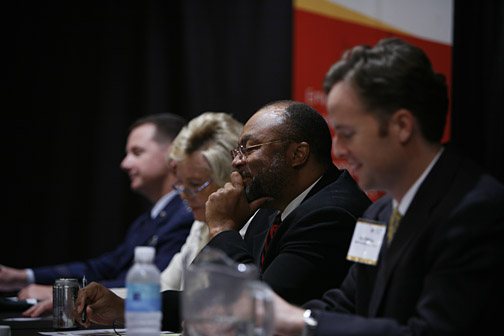 Hosting a Summit
Leaders from business, government and nonprofit organizations in communities across the United States served as local hosts for Meta-Leadership Summits. Hosts for the Summits usually included the governor's or mayor's office, local corporations and nonprofit/philanthropic organizations, and other community entities with an interest in emergency preparedness and response. These hosts actively promoted the Summit and encouraged other organizations and leaders to participate.
Sponsoring a Summit
On a national level, the Meta-Leadership Summit for Preparedness was supported by a grant from the Robert Wood Johnson Foundation, which covered programming and administrative costs. In lieu of a registration fee for Summit participants, local sponsors covered the Summit's operational expenses, including meeting space rental, audiovisual equipment, food and beverage and meeting materials.
Summit expenses, covered by local sponsors, varied from $40,000 to $60,000 per Summit, assuming 200 participants attending a two-day event and depending on prevailing rates, in-kind contributions and Summit dates.
Summit sponsors received prominent visibility and were vital to the success of the program. All sponsors received the following benefits and recognition:
Advance promotion on the Meta-Leadership website
Logo inclusion in onsite meeting materials
Recognition on signage at the orientation, reception and Summit
Verbal recognition of sponsorship at the orientation and Summit
Acknowledgement on Summit sponsor recognition slides
Sponsorship recognition in press materials
Invitation to exclusive appreciation breakfast the morning of the Summit
Acknowledgement in email thank you to attendees following the Summit
CDC Foundation donor recognition listing
Back to Resource Center Home |Next Topic: Inviting Participants