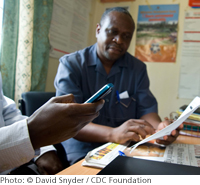 The CDC Foundation is designated as a financial and administrative steward of funds from the President's Emergency Plan for AIDS Relief (PEPFAR) that support the creation of public-private partnerships (PPPs) in PEPFAR countries. Currently, the CDC Foundation manages PEPFAR-supported activities in Kenya, Tanzania and Nigeria. PEPFAR continues to play an important role in building sustainable public health and healthcare infrastructure across Africa that has an impact on HIV/AIDS, as well as other diseases and health threats.
Mobile Health (mHealth)
PEPFAR-supported activities in Kenya and Tanzania focus on developing partnerships to advance mobile health (mHealth) initiatives. Phones for Health, an innovative partnership comprised of mobile phone operators, handset manufacturers, technology companies, global health organizations and private donors who share the common goal of using the widespread and increasing mobile phone coverage in the developing world to strengthen health systems.
The Phones for Health initiative works to help developing countries in Africa use wireless technology to manage the information requirements of large-scale health programs. Cellular technology offers many advantages - wireless service is often more accessible than hardwired networks in many regions, and wireless devices are portable, relatively inexpensive and battery-powered, making them well suited for use in remote villages with little or no electricity.
For example, health workers in Tanzania are using mobile phones to collect data about infection rates for malaria, cholera, measles, typhoid and other diseases in their area. The phones are connected to an Interactive Voice Response system, so that all the health workers have to do is call in and answer a standard set of questions. The verbal system makes it easy for community health workers with varying levels of literacy to provide accurate data without having to read and decipher paper forms or key-in data.
The Interactive Voice Response software then automatically aggregates the data and sends text messages alerting officials of immediately notifiable diseases. The system also makes the data accessible in real time to public health officials at the district, regional and national offices via the Internet. Accurate, real time data helps health officials at the national level make decisions about how best to use their limited resources to meet health needs in their country.
"There are outbreaks that require immediate response so that's why [certain diseases] were selected," says Dr. Mwendwa Mwenesi, the project lead from the Ministry of Health. "[Before that] they had to take the paper-based data personally to the district facility. It could take two days to do that, and pay for transport and maybe boarding. Then the local facility would be closed while they were away."
In addition to disease surveillance, health experts are using wireless technology to send health-related text messages to health workers, patients and other community members.
In Tanzania, where the healthcare system often faces critical blood shortages, health experts are using mobile phones to boost participation in blood donation programs. Text messages were sent to 12,000 potential blood donors, encouraging them to participate in a national blood donation program that screens all donated blood for HIV and other diseases. Those who donated could opt-in to learn their HIV status and receive counseling if needed.
Training in Laboratory Equipment Maintenance
Activities managed by the CDC Foundation in Nigeria support the development of a training program to ensure that local staff are prepared with the skills and knowledge to install, maintain and repair laboratory equipment. This is a need that has been identified by many ministries of health; they often receive second-hand equipment that requires more maintenance, have challenges installing equipment designed to work on a Western power grid, and generally have a need to make equipment last longer.
Project partners intend that the training program, once established in Nigeria, will be a resource for other African countries as well. The training program is supported by PEPFAR as well as other government and private-sector partners. CDC's role in the partnership is to provide expert advice to the implementing partners on how best to structure the training program.
For More Information
Organizations interested in supporting PEPFAR-funded activities should contact:
Linda McGehee, CDC Foundation, 404.523.3501 or lmcgehee@cdcfoundation.org